Research Conference: Prospects for an Inclusive Green Growth and Sustainability in the CAREC Region
21 Sep 2023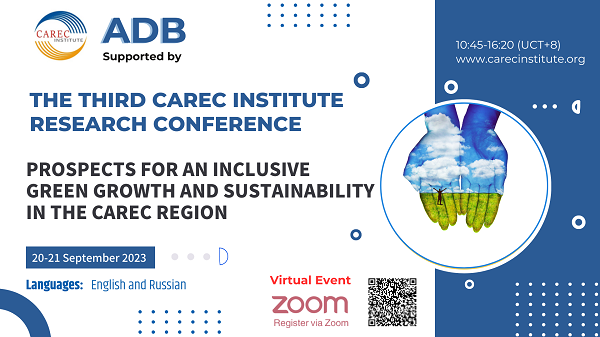 The Third CAREC Institute Research Conference "Prospects for an Inclusive Green Growth and Sustainability in the CAREC Region" aims to foster connection between research and policy making by systematically documenting policy-oriented research and creating CAREC-customized up-to-date narratives around inclusive and green economic growth.
Conference's themes
The conference will include the following themes and subthemes:
1.Inclusive Green Growth and Sustainability in CAREC countries.
Sub-themes: Low-carbon and green technologies, Renewable energy transition, Circular economy and resource efficiency, Productive capacities and growth, Sustainable resources management, Green finance, Sustainable agriculture and food systems, Ecosystem conservation and restoration, Social inclusion and equity.
2.Seizing Green Business Growth in CAREC.
Sub-themes: Development of business models that prioritize sustainability, such as green supply chain management, clean technologies, carbon neutrality, sustainable manufacturing, and sustainable product design.
3.Economic Corridors in CAREC: Green Transboundary Infrastructure.
Sub-themes: Development of sustainable transportation infrastructure, Developing renewable energy infrastructure, Green infrastructure design, Sustainable land use planning, Sustainable tourism development along economic corridors, Cross-border collaboration on economic corridors and transboundary infrastructure.
4.Digital Connectivity – Opportunities for Inclusive and Sustainable Growth.
Sub-themes: Development of digital infrastructure, Digital inclusion, Opportunities and challenges of e-commerce for inclusive and sustainable growth, Digital health, Digital education, Digital finance, Digital agriculture: Digital governance, Digital entrepreneurship, Digital security and privacy.
5.Ensuring Adaptation and Resilience to Climate Change for Sustainable Development.
Sub-themes: Climate change adaptation strategies, Ecosystem-based adaptation, Disaster risk reduction, Sustainable agriculture, Climate-resilient infrastructure, Water management, Climate finance, Climate justice, Indigenous knowledge and adaptation, Climate communication and education.
Conference contributions
The conference will catalyze the sustainable delivery of research findings and their translation into policy prescriptions for better economic development and integration in the CAREC region. The conference will be based on CAREC Institute's research and a call for book chapters and will include the presentations of selected research manuscripts around the abovementioned themes, indicating its continuing evolution and future development through rigorous analysis.
Prospective authors are kindly invited to contribute to the conference by submitting their research papers. High quality research contributions describing original and unpublished results on conference themes are cordially invited for presentation at the conference.
All collected conference papers will be peer-reviewed by independent reviewers. Selected high-impact full-text papers will be considered for publication as chapters in the Third Annual Book of the CAREC Institute. The selection of papers for publication will be carried out during the peer-review process, as well as at the conference presentation.
For information about the paper submission please visit CAREC Institute's website.
Conference dates
The tentative dates of the conference are September 20-21, 2023.
Conference sponsor opportunities
The conference offers the opportunity to become a conference sponsor. To participate as a sponsor, please contact us via the email below.
Contact person
For any questions related to the conference and paper submission, please contact Ms. Emma Tong at emmat@carecinstitute.org.
Link to attend the Third CAREC Institute Research Conference
https://carecinstitute-org.zoom.us/webinar/register/WN_tz4GN8ABT_-zBUB8ZvpOzg#/registration