Regional ToT Workshop on the Design and Implementation of FTAs
26 Jan - 28 Jan 2023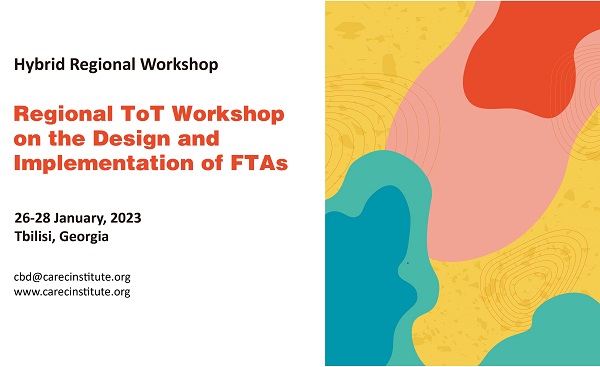 The CAREC Institute and the Asian Development Bank (ADB) will jointly deliver a hybrid regional workshop on "Strengthening Knowledge and Capacities for the Design and Implementation of Free Trade Agreements (FTAs) Involving CAREC Countries: Training of Trainers (ToT)" on 26-28 January 2023 in Tbilisi, Georgia.
The CAREC Integrated Trade Agenda 2030 points at a low degree of economic integration among the CAREC countries and that, with the exception of the PRC, the CAREC countries are less integrated into the global economy due to poor market access, limited economic diversification, and weak institutions for trade. This workshop specifically targets the relative weakness of trade institutions in selected CAREC countries. Meanwhile, the planned CAREC FTA under the CAREC Integrated Trade Agenda 2030 will address the current poor state of market access by lowering tariff and non-tariff barriers and stimulate greater economic diversification by encouraging entrepreneurship in new or under-performing areas of export potential.
During the workshop, representatives of governments, academic and research institutions from CAREC countries will gain technical training expertise, and by complementing with own local knowledge, they will continue contributing to the effective dissemination of knowledge in their countries and serve as resource persons for governments in preparation for future FTA negotiations.
International consultants and experts from the CAREC Institute and the ADB will deliver the training outputs in two phases: the first phase will be conducted online with pre-recorded video lectures, and the second phase will be conducted in real time in the form of in-person workshop, covering major subjects identified as priority areas in the capacity needs.
The sessions and materials will be uploaded to the CAREC Institute E-learning Platform for registered users.