Regional Policy Dialogue on Regional Sustainable Development Cooperation in Central Asia
16 Nov 2023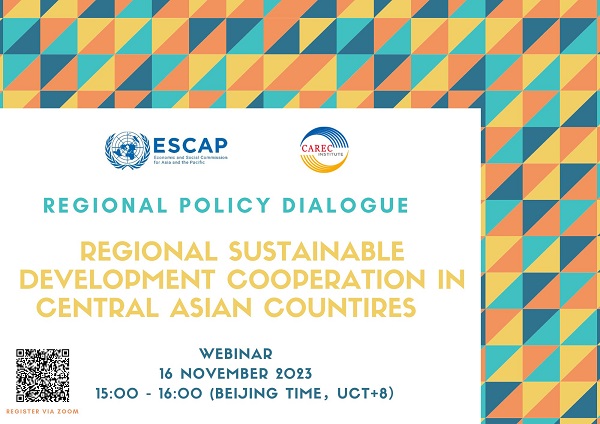 The CAREC institute in a partnership with United Nations Economic and Social Commission for Asia and the Pacific (ESCAP) will organize the Regional Policy Dialogue "Regional sustainable development cooperation in Central Asian countries" on 16 November 2023, from 15:00 – 16:10 (Beijing time, UTC+8).
The key objective of the webinar is to provide participants with a comprehensive understanding of the challenges and opportunities for regional cooperation within the CAREC region and to equip them with the knowledge and tools necessary to implement recommended policy measures to achieve sustainable and inclusive development. To accomplish these objectives, the webinar aims to:
• Present the main findings of the theme papers of ESCAP's Asia Pacific Sustainable Development Journal, Vol. 30, Issue No. 2.
• Enhance participants' capacities to analyze complex issues pertaining to enhanced regional cooperation for sustainable development, low carbon energy transition, participation in regional value chains, intra-region trade and transport corridors.
• Increase awareness among government officials regarding the trends, prospects, and options available for supporting regional economic cooperation and integration.
• Offer policy guidance based on rigorous analysis of status, barriers and challenges to regional economic cooperation and integration for sustainable development, and for shared prosperity.
To attend the Region Policy Dialogue, please, register using the link below:
https://carecinstitute-org.zoom.us/webinar/register/WN_P-l8SnllQ4eg08NJeibhmw
Event Materials
Key Documents