Knowledge-Sharing Webinar Enhancing Regional Trade Facilitation through National Single Window: Pakistan's Experience
2 Nov 2023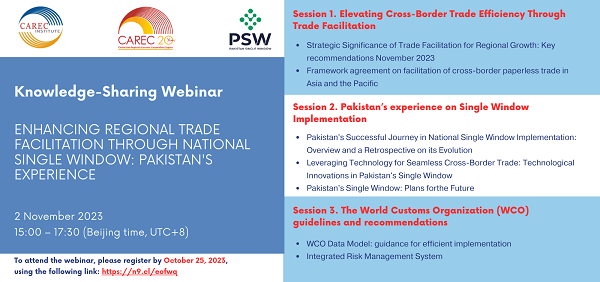 On November 2, 2023, the Central Asia Regional Economic Cooperation (CAREC) Institute and Pakistan Single Window are jointly organizing a knowledge-sharing webinar "Enhancing Regional Trade Facilitation through National Single Window: Pakistan's Experience."
This webinar aims to help participants learn about best practices and challenges related to the implementation and management of National Single Window Systems among CAREC member countries. During the event, experts and government representatives will share insights into the governance models (both business and operational), techniques, and tools adopted by various National Single Window Systems to streamline trade regulatory processes. The webinar will build a network of experts from CAREC member countries as a platform for ongoing knowledge sharing and collaboration in future trade facilitation initiatives.
The webinar agenda includes presentations and discussion sessions led by international experts, as well as opportunities for countries to exchange their experiences.
During the webinar, participants will study in detail Pakistan's experience in implementing a single window. The Pakistan Single Window (PSW) stands as a notable cross-border trade facilitation initiative undertaken by the Government of Pakistan in recent years. Presently, the PSW boasts over 57,000 users who utilize the system to register online with customs, submit customs declarations, and apply for licenses, permits, certificates, and other related documents from various departments – all online. Pakistan's journey in implementing the NSW holds valuable insights and lessons for other countries in the region seeking to develop and implement similar systems.
Date and time of the webinar: 2 November 2023, 15:00 – 17:30 (Beijing time, UTC+8).
To attend the webinar, please register by October 25, 2023, using the following link: https://carecinstitute-org.zoom.us/webinar/register/WN_t50vUl1WRZ-DEJWJIqevyA