Knowledge Sharing Series: Chinese Best Practice in Cross-border E-commerce
2 Apr - 2 Jul 2022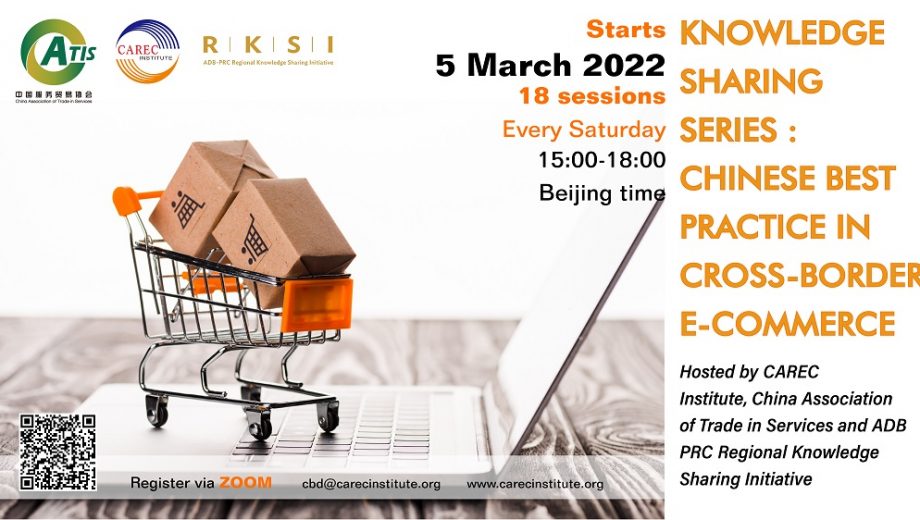 The CAREC Institute, in collaboration with the China Association of Trade in Services (CATIS) and ADB-PRC Regional Knowledge Sharing Initiative (RKSI), is organizing a multi-session training series on cross-border e-commerce for national technical vocational educational and training (TVET) institutions of CAREC countries and others interested from 5 March 2022 to 2 July 2022, every Saturday, 3-6 pm, Beijing time.
As a fast-growing digitally enabled business model for trade, cross-border e-commerce has been leading the transformation of global trade in recent years. During the COVID-19 pandemic, it became one of the driving forces for the development of global trade. Among others, the PRC has been making significant progress in cross-border e-commerce and accumulating valuable experience and knowledge which will be shared with all CAREC countries during this series.
To strengthen demand-driven knowledge sharing programs among CAREC countries on a systemic basis, the CAREC Institute and CATIS invite e-commerce professionals of worldwide tier-one Internet enterprises and e-commerce platforms to join the program.
A full range of training services including talent training, certified assessment, and further innovation incubation services will be provided. English and Russian simultaneous interpretation will be available throughout the sessions. Contact Gary Huang at garyh@carecinstitute.org for additional queries.
Register here to participate.