Improving Road Safety in CAREC Countries
2 Sep - 6 Sep 2019; Hohhot, Inner Mongolia, PRC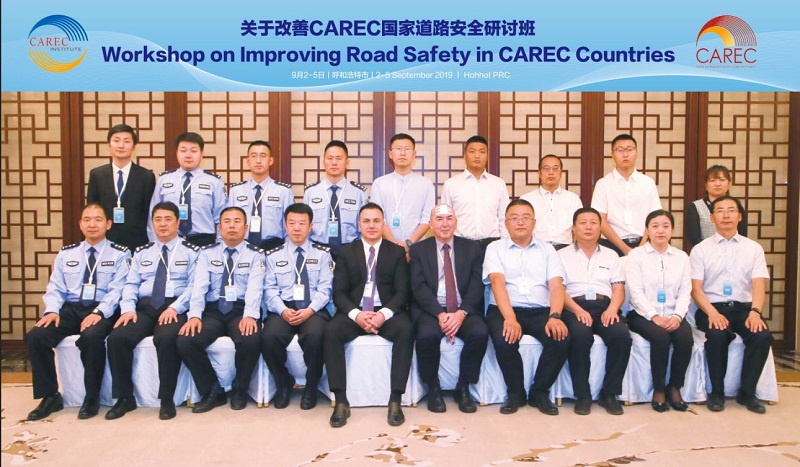 The CAREC Institute held a road safety workshop in collaboration with the CAREC Program and the Asian Development Bank (ADB) during 2-6 September 2019 in Inner Mongolia, the PRC.
The workshop aimed at sharing the best practices in road safety engineering, including treating hazardous road locations (black spots), road safety audits, roadside hazard management, and safety at road work sites. It equipped participants with necessary resources to advocate for changes in policies and practices that may be required at the national level.
This event continued the series of road safety workshops targeting relevant senior governmental officials that started in Dushanbe in 2017, followed by manuals in 2018 on road safety audit, safer road works, roadside hazard management, and another workshop in Bishkek in 2019.
The CAREC countries made the road safety a collective regional priority at the 15th CAREC Ministerial Conference in October 2016 when they adopted the regional road safety strategy 2017–2030. The strategy aims to reduce fatalities on CAREC roads by 50% by 2030, as compared with 2010. The goal is to save 23,000 lives and avoid 250,000 serious injuries annually equaling the estimated savings of $16 billion a year.
According to the WHO estimate of 2018, road crashes ranked as the 8th leading cause of death globally. Further analysis showed that road crashes ranked as the 6th cause of death in Central Asia. Majority of the CAREC countries rely on roads and railways for transportation, only three of them have access to maritime routes. The CAREC Program entails expanding the road corridor network for better connectivity, thus road safety plays a major role in operating the corridors at their optimal capacity.