Country Specific Virtual Workshop on Improving Road Safety Engineering in CAREC Countries (Turkmenistan)
12 Apr - 27 Apr 2022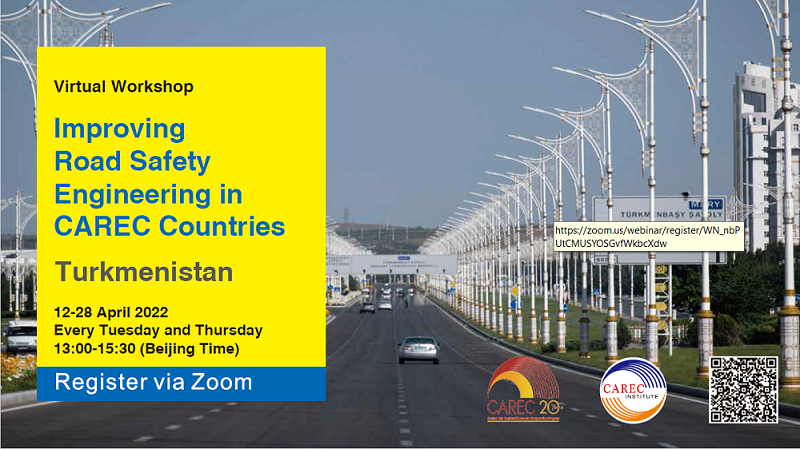 The CAREC Institute, in partnership with the Asian Development Bank (ADB), held a country-specific online road safety workshop with government representatives and road safety experts from Turkmenistan. The virtual workshop was divided into six sessions over three weeks from 12 to 28 April 2022.
This country-specific workshop aimed at sharing best practices in the field of road safety engineering, including treating hazardous road locations (such as black spots), conducting road safety audits, managing roadside hazards, and ensuring safety on road construction sites. The workshop provided participants with necessary materials for policy advocacy and practical changes required at the national level.
This event is a part of a series of road safety workshops that began in Dushanbe in 2017, and followed by development of manuals on road safety audit, safer road works, roadside hazard management and pedestrian safety (in 2018), workshops in Bishkek (March 2019), Tbilisi (April 2019), Hohhot, Inner Mongolia Autonomous Region of the PRC (September 2019), Tbilisi (for participants from Afghanistan, November 2019), individual online workshops for Mongolia (May 2020) and Kazakhstan (October 2021).
Based on road safety manuals, the CAREC Institute has developed four Digital Learning Modules, which are available on the CAREC Institute's e-learning platform.