CAREC Chai VI "Enhancing the Middle Transport Corridor: Unlocking Opportunities in the Heart of Eurasia"
6 Dec 2023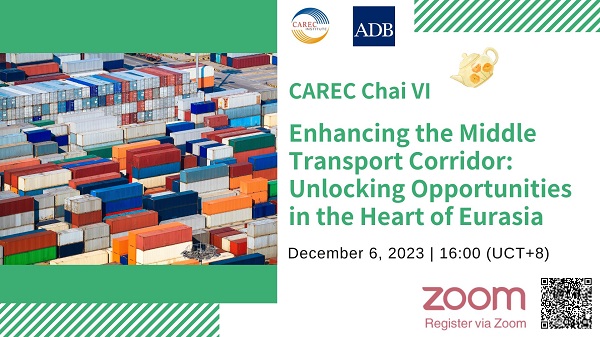 The CAREC Institute, in collaboration with the CAREC Secretariat and the Asian Development Bank, is organizing the 6th CAREC Chai event on "Enhancing the Middle Transport Corridor: Unlocking Opportunities in the Heart of Eurasia" on December 6, 2023, at 16:00 Beijing time (UTC +8). The focus of this event is to facilitate a comprehensive dialogue on unlocking the potential of the Middle Corridor and enhancing its efficiency, aligned with the objectives of the CAREC Strategy 2030.
The Middle Corridor, also known as the Trans-Caspian International Transport Route, links Asia and Europe via Kazakhstan and the Caspian Sea, entering the EU through the Caucasus. The Middle Corridor, with an annual throughput capacity of 5.8 million tons and the ability to handle over 80,000 TEU containers, has gained prominence in international trade and transportation.
The Middle Corridor offers significant opportunities by providing a shorter route with only 7,000 kilometers that is less impacted by geopolitics for the transportation of goods between China, Central Asia, the South Caucasus, and Europe. However, challenges such as high costs, limited port capacity, regulatory hurdles, competition with other routes, and geopolitical uncertainties threaten its development. Success hinges on aligning political relations, regional infrastructure, and technological advancements.
The event will be recorded and uploaded to the CAREC Institute's e-learning platform (elearning.carecinstitute.org)
Please register here:
https://carecinstitute-org.zoom.us/webinar/register/WN_dBdEiJ94R7yWbPQ9fV_PDA