CAREC Chai 2: "Economic Impacts of the War in Ukraine on the CAREC Region: Preliminary Assessments"
6 Apr 2022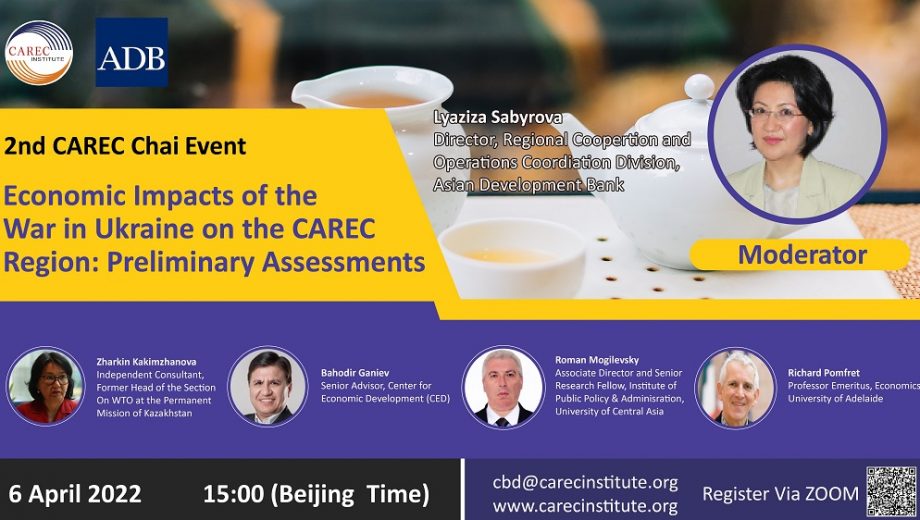 On 6 April 2022, the CAREC Institute, in collaboration with the ADB, hosted the second CAREC Chai webinar. This initiative aims at bringing together the leading experts, top academics, think tanks, development partners, and CAREC government representatives to exchange views and share opinions on prospects of connectivity and cooperation in the CAREC region.
The second CAREC Chai event focused on the immediate effects of the conflict between Ukraine and the Russian Federation (Russia) on Central Asian and South Caucasus economies, as well as how their businesses and governments are adjusting. The experts shared their thoughts about the opportunities that have emerged as a result of this crisis and the role of the CAREC Program in strengthening regional cooperation among the CAREC countries. This event was informal with an inviting and open atmosphere, so experts felt comfortable providing their professional expert insights based on their observations. Over 140 external and internal participants attended this event.
All materials and webinar recordings are available through the CAREC Institute's e-learning platform.