Tourism Recovery Information – Information at the heart of restoring tourist confidence
May 2021, Mr. Sanjay Saxena, Managing Director of Total Synergy Consulting (TSCPL)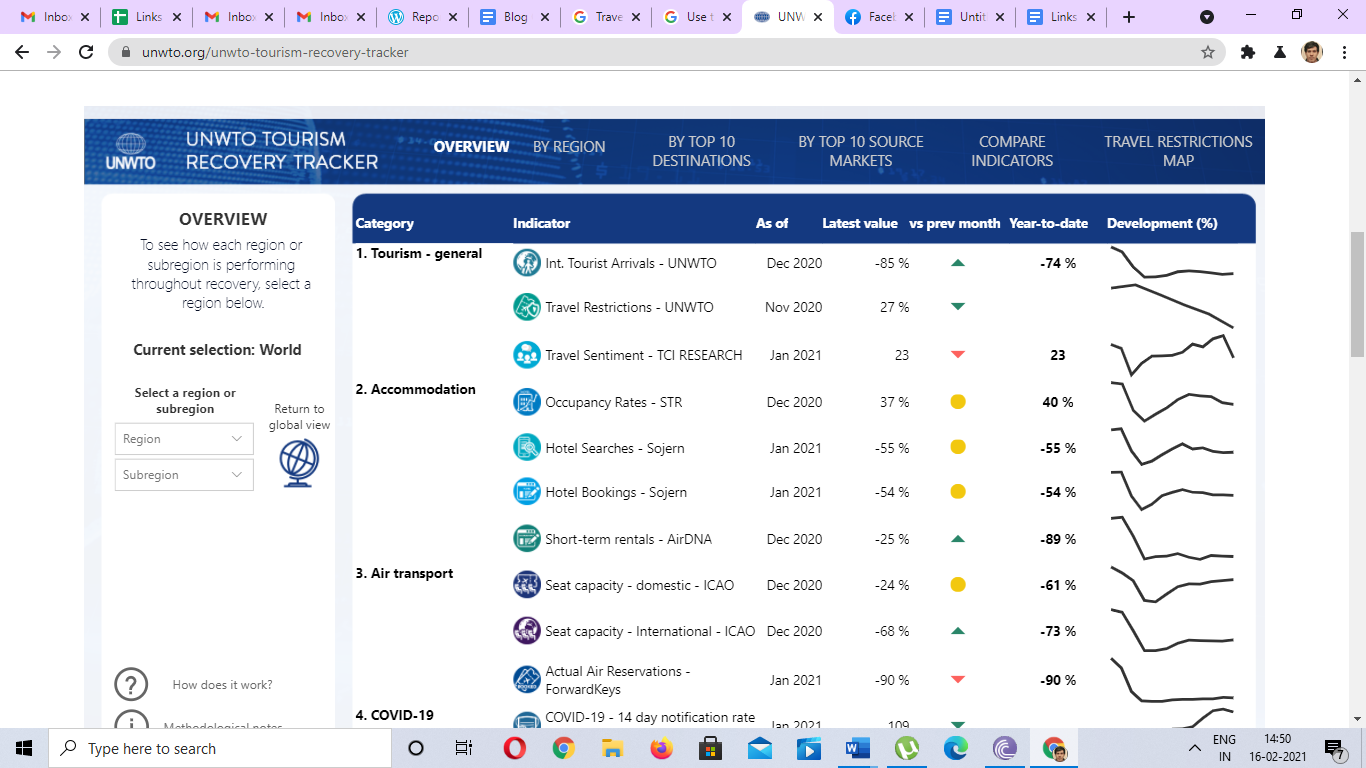 The blog is one of the outcomes of CI's research project "Covid 19 and CAREC Tourism Sector: Harnessing the Role of Technology in Promoting Safe Tourism Destinations". It was written by Mr. Sanjay Saxena Managing Director of Total Synergy Consulting (TSCPL), under the guidance of Dr. Qaisar Abbas Chief of Research Division CAREC Institute.
Due to the Covid_19 pandemic, the global tourism industry was faced with an unprecedented never seen before crisis like situation, that brought the global tourism industry to a complete standstill. Yet, after months of complete lockdown, travel restrictions, and rising Covid cases across the globe, the travel industry has just begun to regain momentum. One of the crucial aspects in reviving the tourism industry is re-building of tourist confidence. Unless tourists feel reassured that they would be safe at all stages of their trip – during the journey, during their stay at the hotel, while going out to see places or to eat, they would simply not travel. It is here that appropriate technologies if deployed properly can play a significant role.
Both the impact and the recovery have to be looked at from a macro lens, that is for the global industry as a whole. Thus, It becomes increasingly essential to trace and follow the recovery process, track new Covid cases, enforce travel restrictions, manage tourist traffic, etc. – all necessary components of ensuring a safe destination. Until now, the tourism industry and its allied stakeholders relied on traditional technologies in their daily operations, but with the aftermath of pandemic, the importance and the significant uses of technologies have been reestablished. Tracking trends and patterns and analyzing them into insights and information for the average tourist and service provider is at the center of the recovery process.
Tourism Recovery Tracker
The World Tourism Organization (UNWTO) has launched a new "Tourism Recovery Tracker" to support global tourism. The Tracker is a comprehensive tourism dashboard, available for free and is a collaborative effort by a group of partners including the International Civil Aviation Organization (ICAO), ForwardKeys, STR, Sojern, TCI Research and AIRDNA. The tracker includes data on:
● international tourist arrivals
● seat capacity in international and domestic air routes,
● air travel bookings,
● hotel searches and bookings,
● occupancy rates and
● demand for short term rentals
● travel sentiment (Net Sentiment Score)
● COVID-19 14-day notification rate per 100,000 population
Tourists can use such information to plan for their future travel, keep track of travel restrictions while keeping all necessary precautions and safety measures in place. On the supply side, various service providers can use such information to monitor the industry's recovery, previous demand patterns, assess the impact of Covid, compare the situation before and after the pandemic, and prepare for the incoming demand.
The Tracker collects information from various international and private secondary sources such as Tourist Arrivals information by the UNWTO, Air Reservations by Forward Keys, Hotel Searches by Sorjen, Economic Indicators by OECD etc, and employs analytical tools to convert the raw data into key insights.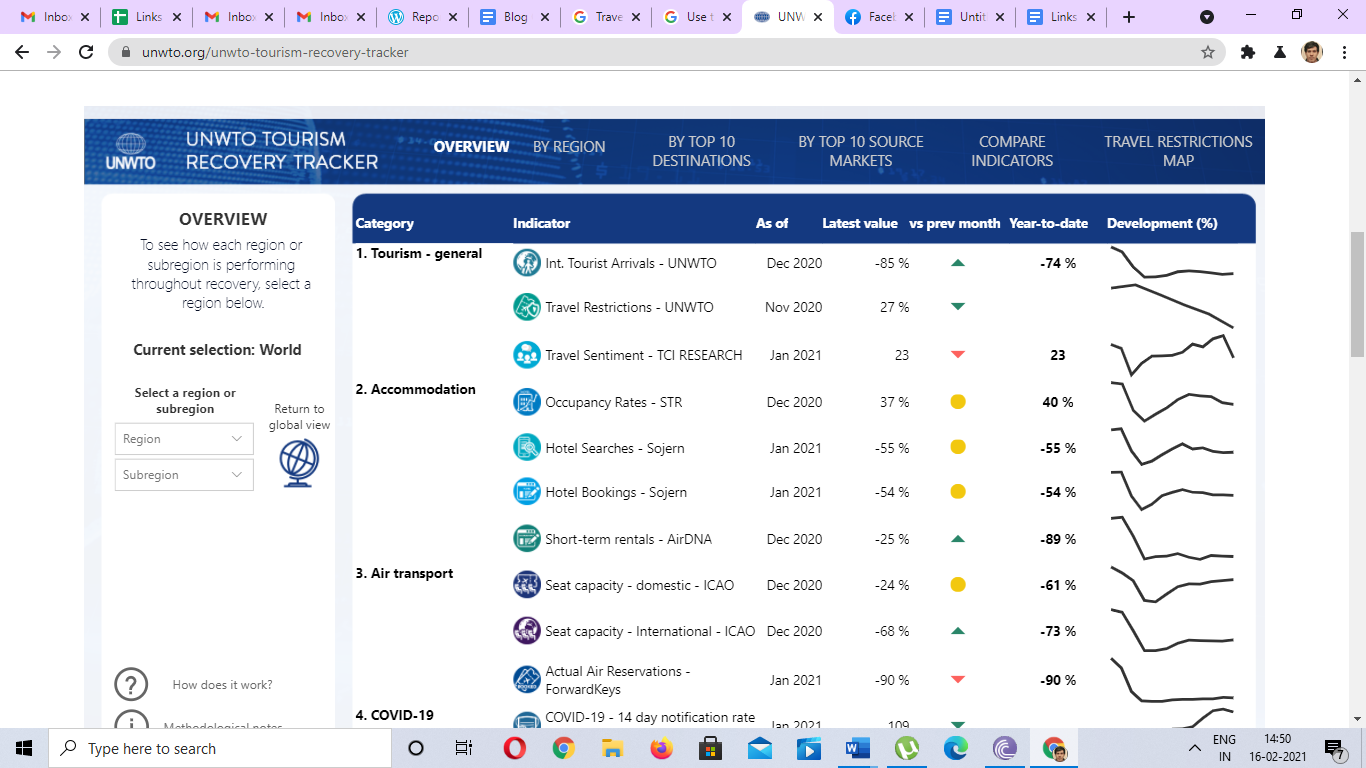 Travelling Insights
Another such tool, 'Travelling Insights' by Google essentially helps a traveler at every point of their journey, from the planning stage to booking flights and hotels and through their travel. The tool is further categorized into three broad categories – Destination Insights, Hotel Insights, and Travel Analytics Center. The destination insights allows the browser to monitor travel trends, i.e. the number of people traveling, to any destination, from their place of origin, over a period of time. The tool covers both trends for both accommodation and air travel and presents a graphical analysis of the trend. The tool also provides insights on the popularity of a particular destination, patterns in demand of the destination, and the source of the demand.
In the image here, destination insights from Kazakhstan to Georgia, for both air and accommodation are provided, for a period of 1 year, February 2020 to January 2021. It shows that the travel demand, Air and Accommodation, has been low in the first 6 months of 2020. The same could be associated with the impact of the pandemic and the gradual lockdowns. It is followed by a steady rise in the seventh month and a gradual fall towards the end of the year.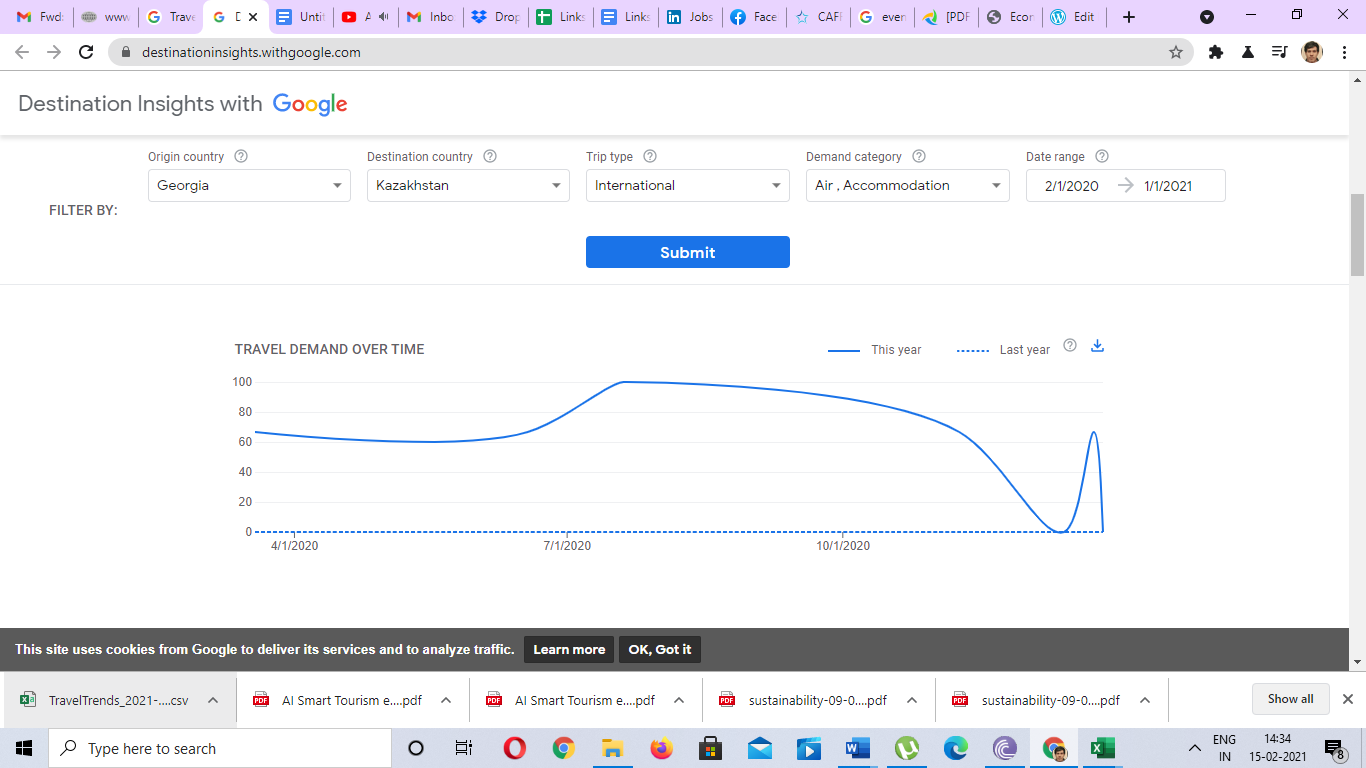 The demand growth of Georgia as a destination can be seen below. Further, a popular source of demand location is also mentioned.
The second tool provided is 'Hotel Insights'. The tool provides insights into hotel booking trends, demand patterns over time and the source of booking demand.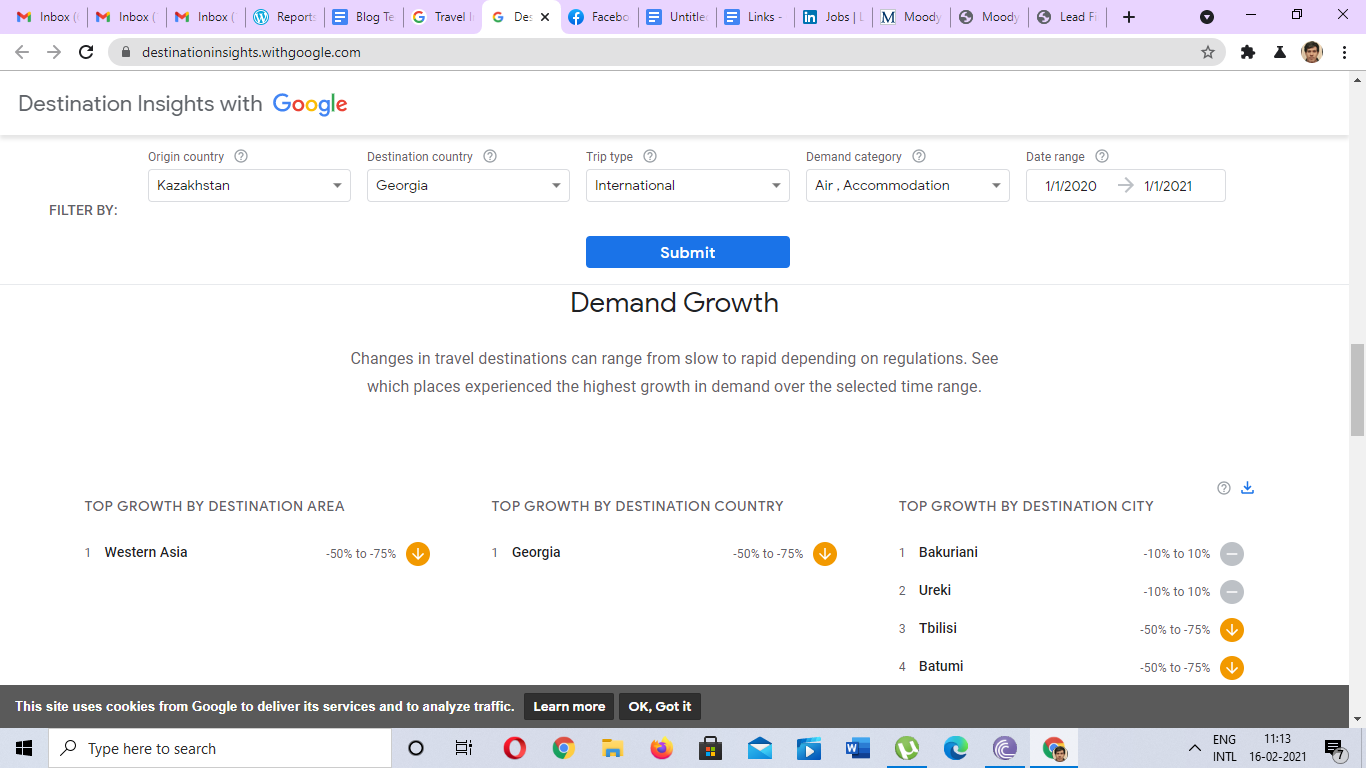 For instance, a look at the insights for hotels in Pakistan potential visitors searching for places to stay in Pakistan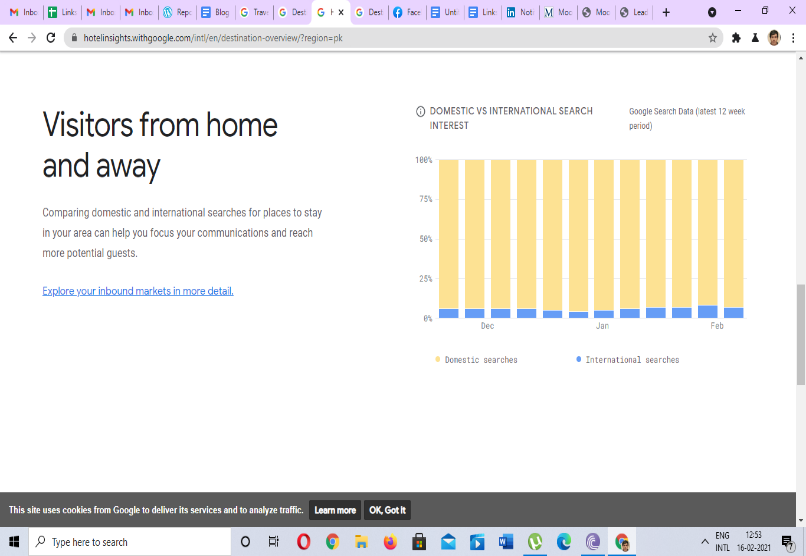 The third tool provided is "Travel Analytics Center". Travel Analytics Center provides useful performance and demand metrics about current and future insights and trends on travel demand and a particular destination's popularity.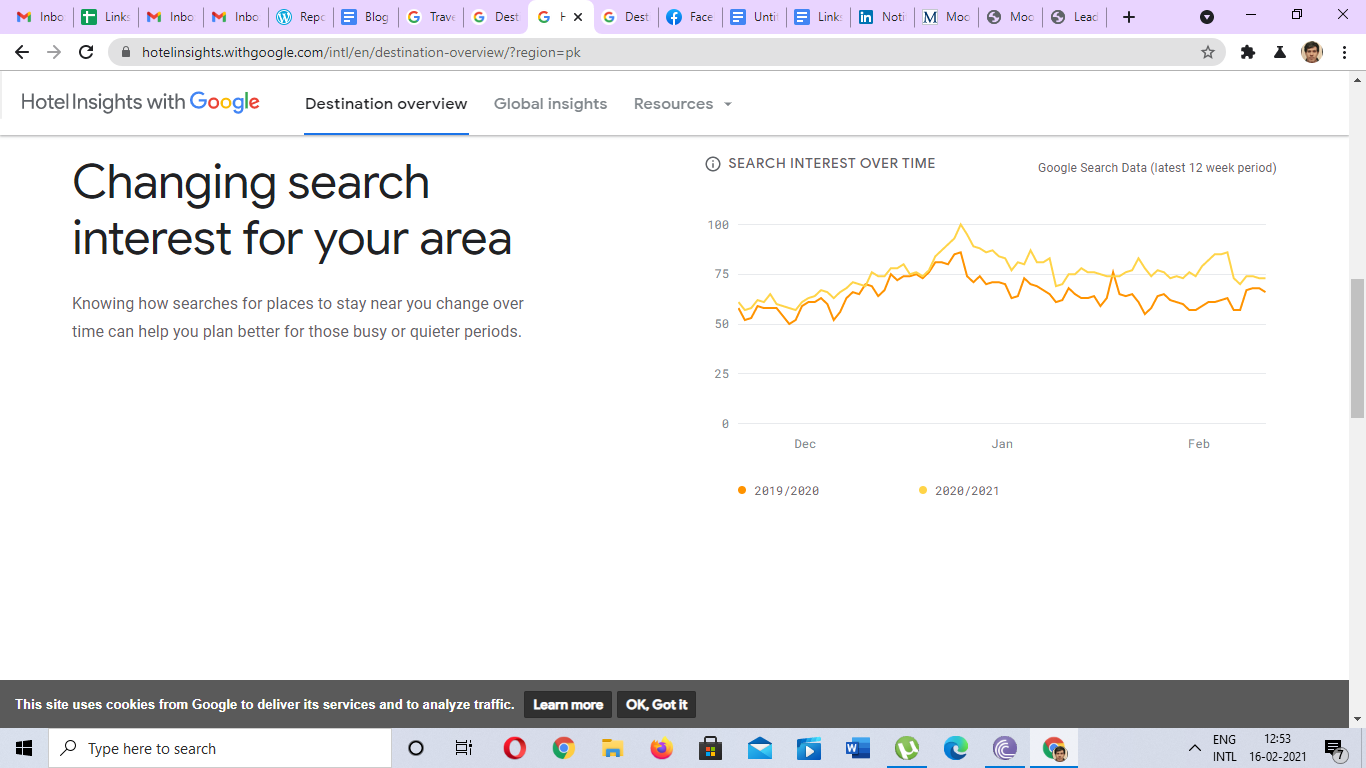 Use in the CAREC Region
Both the Tourism Recovery Tracker and the Travelling Insights apps may be used by all the CAREC countries to get insights about the latest tourist movements and short-term trends. This will help national and local government, as well as destination managers to prepare and plan accordingly. For instance, if the tracker shows that lots of tourists are showing interest in visiting a particular destination, but none for another one nearby, this may need a very specific and targeted set of actions to promote the other destination and allay the tourists' fears and concerns.
Such tools and apps would also ensure that up-to-date, reliable and relevant information is always made available to all visitors and in easy to access formats. All visitors require information about open and available hotels, public transport options, restaurants, places to visit and avoid (either due to health reasons / virus affected areas), throughout their stay. Platform such as these and the ubiquitous availability of credible and relevant information will generate trust and confidence among visitors and increase their ability to help themselves and give them confidence to travel. Early trends are already showing that visitors are more willing to travel to those destinations where they have easy access to information about the local contagion, security and safety measures, and emergency services.