Workshop on Promoting Sustainable Economic and Social Development
26 Sep 2022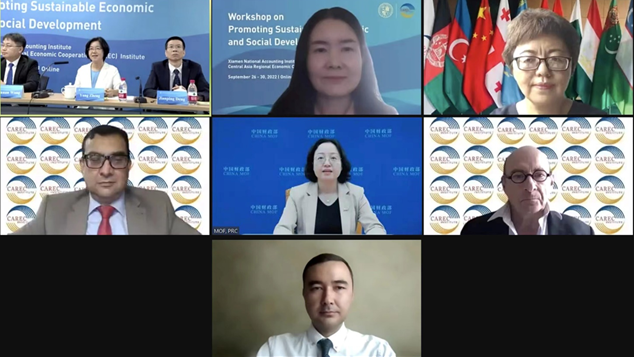 On 26 September, the CAREC Institute, in partnership with the Xiamen National Accounting Institute of China, launched a five-day virtual Workshop on Promoting Sustainable Economic and Social Development. The workshop brings together economists from academia, public and private sectors.
In her opening remarks, Ms. Ye Jiandi, the Deputy Director-general of the Department of International Economic Relations, Ministry of Finance of China, noted that the global economy faces many complex challenges. Sustainable development is more important today than ever. Participants could take this workshop as a platform to exchange development experience, build connections and networks, and work together to promote multilateral and bilateral financial cooperation and sustainable development.
Mr. Syed Shakeel Shah, Director of the CAREC Institute, welcomed the workshop participants, noting the current issues in achieving the 2030 Agenda for Sustainable Development. While the 2030 Agenda sets an important goal for countries worldwide to promote economic and social progress, its achievement is threatened by new challenges brought by the COVID-19 pandemic, global crises, and conflicts. The global economic recovery from the pandemic is fragile and inconsistent due to rising inflation, severe supply chain disruptions, growing labor market pressures and unsustainable debt in developing countries. With irregular vaccine access and varied restrictions across the globe, there is a stark two-tiered COVID-19 recovery that impacts people unequally. In these new circumstances, CAREC countries need to consider greater efforts to promote regional cooperation initiatives and programs to achieve the Sustainable Development Goals and explore ways to promote green and inclusive economic growth and sustainable development that should include digital transformation, development of relevant infrastructure and innovative financing models, as well as deepening regional economic integration.
Ms. Zhen Yong, Vice President of Xiamen National Accounting Institute, welcomed the participants, noting that the workshop will focus on topics such as inclusive growth, infrastructure investment and financing, digital transformation, and green economy, which are common concerns of CAREC member countries. She also noted that participants could jointly explore the path of sustainable economic and social development and contribute to building a community with a shared future for mankind through knowledge sharing.
Dr. Hans Holzhacker, Chief Economist of the CAREC Institute, opened the first interactive session of the workshop with a presentation on CAREC Inclusive Growth in the Post-Pandemic Era. He stressed that most CAREC economies outgrew the COVID-19 recession in 2021 when the consumption and foreign trade recovered. However, mineral fuel net importers remained in foreign trade deficit or saw it widen, leading to further polarization of foreign trade balances among CAREC economies. Commodity prices reached highs not seen in a decade. Exchange rates weakened even in countries with trade surpluses. Public debt in CAREC countries increased in 2020. High share owed to non-residents in some CAREC economies makes refinancing difficult. The CAREC countries have been exposed to immense impacts of climate change such as floods, water shortages, food insecurity, loss of livelihoods, health issues, and natural hazards. The CAREC countries need to take collaborative strategic actions on climate change and energy transition. Agriculture is to undergo deep technological and socio-economic change with a strong impact on the social fabric. The pandemic and current inflation have reaggravated the poverty situation requiring countries to upgrade their social protection systems. The pandemic has also worsened gender-inequality in the labor market, in education and increased domestic violence. To address these challenges and ensure post-pandemic long-term inclusive economic growth, CAREC countries need to increase productivity, improve social protection and empower employees, women and other social groups to help further reduce inequality. The productivity push should come especially from digitalization, trade facilitation, foreign direct investment, and the development of human capital.
During five days of the workshop, economists from the CAREC region will discuss important topics of green and inclusive economic growth and sustainable development, such as the introduction of innovative public-private partnership models in the development of quality infrastructure, digital finance and taxation, carbon neutrality and green finance. The participants will also learn about best practices and examples of green finance and digital transformation projects for governments and businesses.