Roundtable on Cooperation between Central and South Asia
16 Feb 2021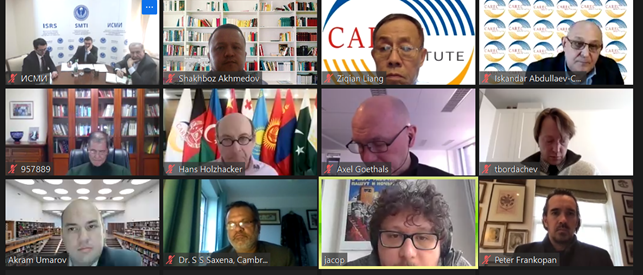 On 16 February 2021, the Institute for Strategic and Regional Studies (ISRS) under the President of the Republic of Uzbekistan and the Central Asia Regional Economic Cooperation (CAREC) Institute jointly held a roundtable on interconnectivity and cooperation opportunities between Central and South Asia. The roundtable gathered Sanjar Valiev, ISRS Deputy Director, Ambassador Alisher Kadirov, Dr. Jacopo Pepe, Research Fellow at Stiftung Wissenschaft und Politik, Dr. Hameed Hakimi, Research Associate at the UK Chatham House, Prof. Timofey Bordachev, Programme Director at Valdai Discussion Club of Russia, Dr. Swante Cornell, Director of the US Institute for Security and Development Policy, Prof. Peter Frankopan of Oxford University among 18 experts from various research institutions and thinks across Asia, Europe, and the US to exchange views on forward-looking approaches and strategies for enhancing collaboration between the two regions.
Chaired by Mr. Sanjar Valiev, Deputy Director of ISRS and Dr. Iskandar Abdullaev, Deputy Director of the CAREC Institute, the discussion sought to build up the conceptual framework for the upcoming international conference to be organized by the Government of Uzbekistan tentatively in May 2021. Participants exchanged views on both historical and contemporary interregional cooperation dynamics including the topics of infrastructure, tourism, transport connectivity, regional integration and economic cooperation among Central and South Asian countries.
Against this backdrop, Prof. Peter Frankopan of Oxford University noted the importance of understanding the baseline of current dynamics of collaboration and elaborating concrete measures to assess the expected outcomes. This would help bring concrete proposals to the table and understand how the CAREC Institute and others could leverage their potential in the realization of rebuilding connectivity between the regions. Dr. Jacopo Pepe, Research Fellow at Stiftung Wissenschaft und Politik, emphasized the necessity for more pragmatic, inclusive and transparent model of connectivity which considers financing aspects and interests of external powers.
Talking about regional cooperation arrangements, Dr. Ahmad Khan, Director of Area Study Center University of Peshawar, pointed out open regionalism that implies bi-, tri- and multi-lateral regional mechanisms simultaneously. Other issues highlighted by experts included public-private partnerships, education, people to people contact, improvement of investment environment, and peace in Afghanistan.
Dr. Hans Holzhacker, Chief Economist of the CAREC Institute, highlighted that striking the right balance among ongoing projects and developing new initiatives in trade, investment, transport and economic corridors, energy, and digitalization sectors would be an important step in enhancing integration and connectivity between the two regions. Similarly, Mr. Liang Ziqian, Deputy Director of the CAREC Institute, highlighted the significance of digital cooperation in the post-pandemic world.
Underling the importance of discussed points on potential opportunities for cooperation, Dr. Abdullaev focused on existing challenges which the regions have in common, such as terrorism and security, food and water security coupled with water governance, climate change, resource availability, and inefficiency in resource consumption. These issues may require immediate technology and knowledge sharing between the regions that can be supported by more enhanced collaboration.
The connectivity between the regions goes back to the centuries-old history of relations among the countries and people inhabiting the two regions. Reestablishing such ties can lead to growth in economic, cultural and peace cooperation. Besides, closer engagement provides wide opportunities for improvement of living standards of the population across these regions.
While discussing ubiquitous interlinkages between the regions, experts agree that there is no specific blueprint strategy for developing cooperation, but rather constant dialogue involving various stakeholders in discussion can shed light on potential cooperation engagements. This roundtable set the stage for further exchanges on these topics.