Partnership Meeting with the Secretariat of China-Eurasia Expo and the Xinjiang International Expo Administration
10 Feb 2023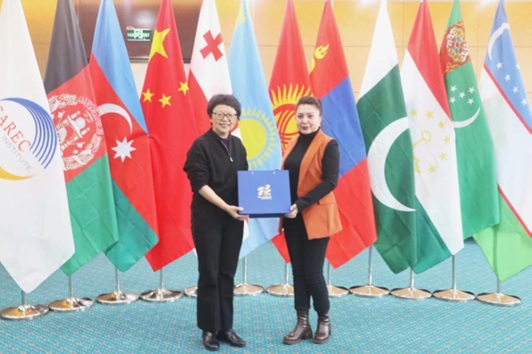 On February 10, 2023, Dr. Huang Jingjing, Deputy Director One of the CAREC Institute, met with a delegation of visitors from the Secretariat of China-Eurasia Expo and Xinjiang International Expo Administration led by Ms. Merryghul Tursun, Deputy Secretary-General of the Secretariat of China-Eurasia Expo and Director General of the Xinjiang International Expo Administration.
Dr. Huang presented CAREC Institute's priority themes and the latest research and capacity-building activities, noting that the CAREC Institute is an intergovernmental organization dedicated to promoting economic cooperation in the CAREC region through evidence-based research, capacity-building services, knowledge sharing, and networking with research institutions and think tanks. Dr. Huang also briefed the roles and the growing impacts of the CAREC Think Tank Network, and the CAREC Think Tank Development Forum in promoting regional cooperation and integration through shared ideas, information, and joint research.
During the meeting, Ms. Tursun presented the history and development of the China-Eurasia Expo and the (China) Eurasia Commodity and Trade Expo — two biennial events, and informed about the active participation of CAREC member countries in these events. As the organizer of 2023 (China) Eurasia Commodity and Trade Expo, Ms. Tursun welcomes the participation of the CAREC Institute in the event.
Both sides also exchanged views on digitalization and smart exhibition and the potential areas for cooperation.