MOU with the International Finance Forum (IFF)
30 May 2021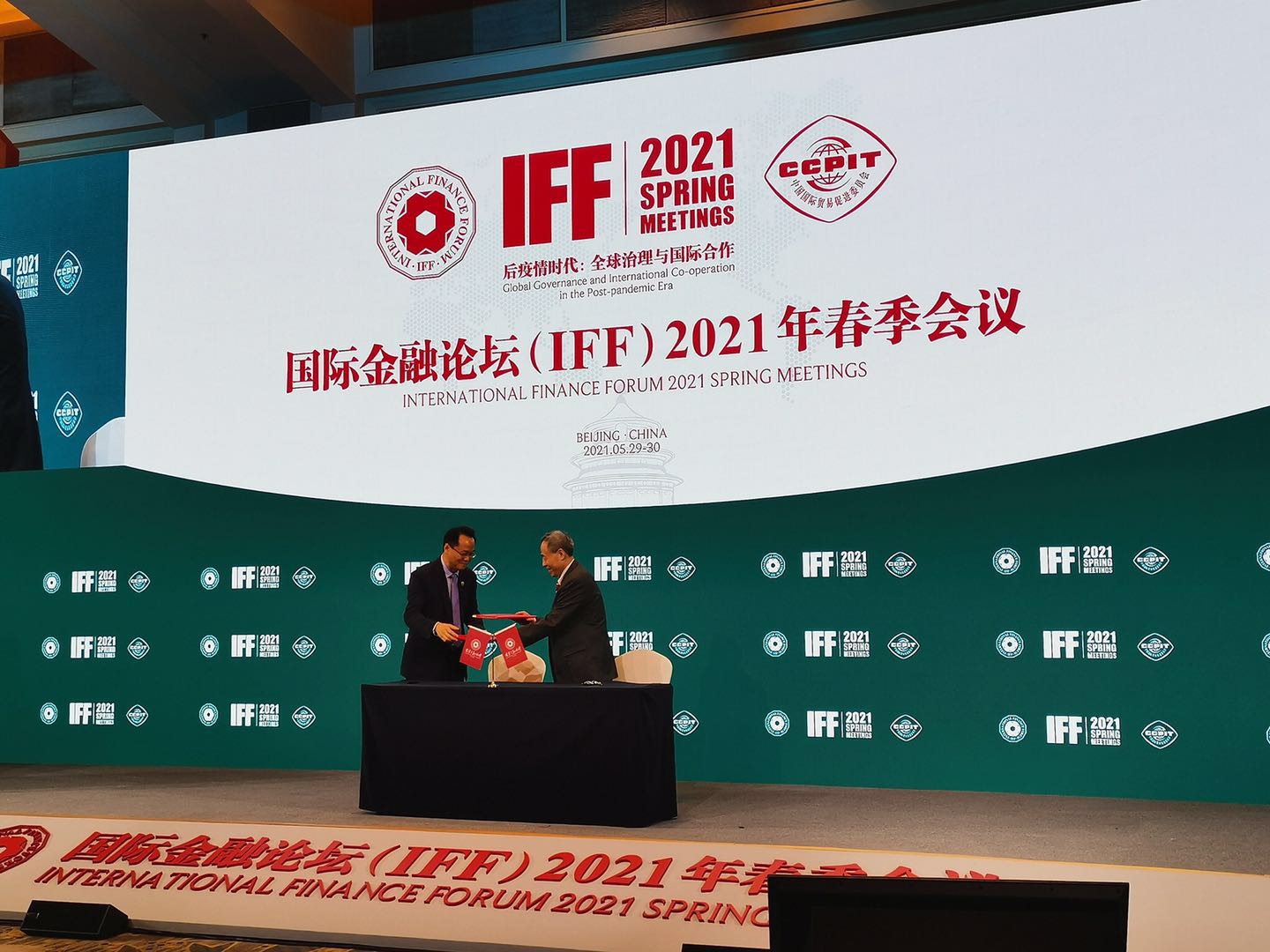 The CAREC Institute and the International Finance Forum (IFF) signed the Memorandum of Understanding (MOU) on 30 May 2021 in Beijing to cooperate for fostering green growth and sustainable infrastructure in Central Asia.
The MoU was signed during the 2021 Spring Meetings of the International Finance Forum. Mr. Liang Ziqian, Deputy Director One, represented the CAREC Institute, and Mr. Zhang Jizhong, CEO/ Founding Secretary-General, represented the International Finance Forum.
The signing ceremony was witnessed by the senior government officials and high-level experts invited to the Silk Road International Association (SRIA) Summit. Mr. Liang was interviewed by China Business News and China Daily after the signing ceremony. In his interview, he emphasized the need to establish multi-pronged cooperation between knowledge institutions, sovereign governments, and the private sector to establish synergies for developing sustainable infrastructure.
The International Finance Forum provides innovative solutions for significant international processes such as global climate governance and the Belt and Road Initiative (BRI). The International Finance Forum was jointly initiated and established in 2003 as a high-level permanent dialogue and research institution in the global finance sector.
Both the institutions expressed their intentions to collaborate in activities for improving the level of regional cooperation and integration for promoting sustainable economic development while minimizing carbon footprints in Central Asia. Both parties agreed to establish knowledge and resource-sharing mechanisms between them and strengthen their complementary advantages in respective business areas.
The conference invited UN Secretary-General António Guterres, GAVI President and former Prime Minister of Portugal Jose Manuel Barroso, President of the Asia Society of America and former Prime Minister of Australia Kevin Rudd, President of the 56th UN General Assembly and former Prime Minister of Korea Han Seung-soo, first President of the Council of the European Union and former Prime Minister of Belgium Van Rompuy, former President of the Philippines Gloria Arroyo, Managing Director of the International Monetary Fund (IMF) Kristalina Georgieva and other more than 20 heads of international institutions, foreign heads of state and former dignitaries attended the conference. Mr. Liang gave a speech after the signing ceremony.
In his speech, he introduced achievements made by the CAREC countries in green finance and mentioned opportunities that exist. The CAREC Institute can play the role of an enabler to provide demand-driven knowledge services for evidence-based policymaking in the CAREC region.
The MOU will strengthen the partnership between the CAREC Institute and the influential international institutions headquartered in the People's Republic of China (PRC). More importantly, the CAREC Institute will develop a new way to connect itself to the BRI with close collaboration with the International Finance Forum.