External Publication: Unlocking Private Investment in Sustainable Infrastructure in Asia
10 Jan 2023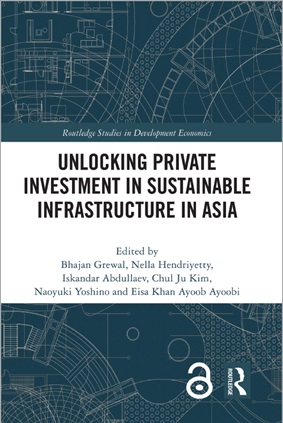 The staff of the CAREC Institute contributed to ADBI's new book Unlocking Private Investment in Sustainable Infrastructure in Asia. Dr. Iskandar Abdullaev, Deputy Director Two, and Dr. Ayoob Ayoobi, Chief of the Capacity Building Division of the CAREC Institute have co-edited the book, and the Chapter 5 Financing Infrastructure in Central Asia was written by Dr. Iskandar Abdullaev and Mr. Shakhboz Akhmedov, Senior Research Fellow of the CAREC Institute.
The book explores the role of infrastructure investment in promoting economic growth and provides a scholarly discussion of the importance of public-private partnerships (PPPs) and approaches to unlock private participation in infrastructure investment based on lessons learned in Asia. Among the proposed schemes are government tax incentives, development-based land value enhancement strategy under PPP land pooling, Viability Gap Funds, Project Development Facilities, and other guarantees. The book assesses the impacts and future of sustainable infrastructure investments and examines the role of governments in mobilizing financial resources and new models for unlocking private investment in sustainable infrastructure.
Chapter 5 of the book provides an analysis of the current status, future needs, and options for financing of the irrigation sector infrastructure in Central Asian countries. Its authors point to the urgent need to reconstruct the old and build new infrastructure for the development of water sector in the region. The existing water infrastructure is public, where local O&M responsibilities are transferred to water users. Therefore, Central Asian countries need to promote effective and improved PPPs for water infrastructure financing. These reforms must go hand in hand with reforms in the governance and management of water resources. The authors argue that only operationally effective and holistic systems of governance and management of water resources can solve water-related problems in the region.