Cooperation Meeting with the Eurasian Fund for Stabilization and Development
24 Mar 2023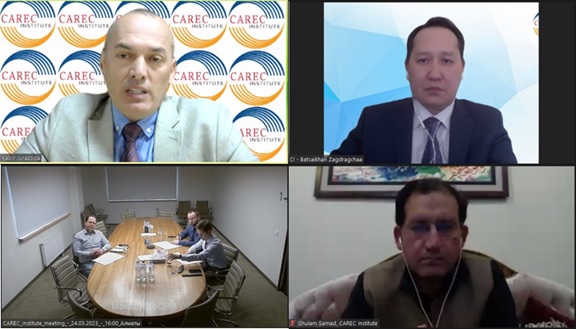 The CAREC Institute and the Eurasian Fund for Stabilization and Development (EFSD) held a virtual meeting on 24 March 2023 to exchange information about knowledge activities undertaken by both institutions and explore synergies for potential areas of cooperation.
The CAREC Institute team led by Director Kabir Jurazoda and EFSD team led by Deputy Executive Director Evgeny Vinokurov discussed ongoing research and analytical work on economic and financial stability, debt sustainability, and sovereign financing database. In the past, the CAREC Institute made contributions in the development of an EFSD database, peer-review of economic and policy briefs, and EFSD had engagements in CAREC Program High-level Forum on Economic and Financial Sustainability and CAREC Think Tank Development Forum.
Supported by technical capacity and experience in conducting research activities focusing on economic and financial stability and debt sustainability, the CAREC Institute and the EFSD will conduct data exchange, joint research and seminars.
Kazakhstan, the Kyrgyz Republic, and Tajikistan are member countries of both EFSD and the CAREC Institute. The EFSD is a regional financial arrangement to overcome negative crisis consequences, provide long-run sustainability and foster economic integration of EFSD member countries.