CAREC Institute Presents at the SPECA Economic Forum "Greener and Safer Future"
17 Nov 2022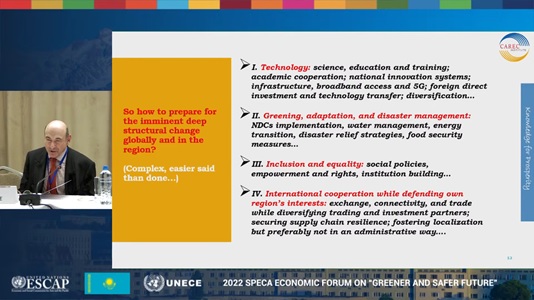 CAREC Institute Chief Economist Dr. Hans Holzhacker spoke at the SPECA Economic Forum "Greener and Safer Future" organized by the UN Economic and Social Commission for Asia and the Pacific (ESCAP), the UN Economic Commission for Europe (UNECE) and the UN Special Programme for the Economies of Central Asia (SPECA) on 16-17 November 2022 in Almaty, Kazakhstan. The forum discussed and identified opportunities for regional cooperation to support a greener and safer future and to support the implementation of internationally agreed goals such as the 2030 Agenda for Sustainable Development and the Vienna Programme of Action for Landlocked Developing Countries.
Dr. Hans Holzhacker stressed that most CAREC economies outgrew the COVID-19 recession in 2021 but the new challenges loom, including from new virus variants and geopolitical tensions. CAREC member countries that rely on raw natural resource exports and remittance inflows are vulnerable to external risks. Elevated inflation, and in some CAREC economies high public and foreign debt limit the room of maneuver for fiscal and monetary policy, requiring very well-targeted measures. Climate change has huge impacts such as water scarcity, food insecurity, loss of livelihoods, health problems, and natural disasters affecting people's livelihoods. The recent devastating floods in Pakistan are an example of how critical climate action has become. "To reaccelerate CAREC countries catching up with the developed economies, they need to increase productivity and strengthen social protection, gender equality and women's empowerment, and continue to improve education and health care. The productivity push should come from digitalization, trade facilitation, foreign direct investments, and the development of human capital," said Dr. Hans Holzhacker.
The SPECA Economic Forum brought together policymakers of SPECA participating countries, representatives from academia and think tanks, and international donor community.
About
The United Nations Special Programme for the Economies of Central Asia (SPECA) aims to facilitate economic cooperation in the SPECA region, integration of the SPECA participating countries into the world economy and to provide a platform for crossborder cooperation for the achievement of the Sustainable Development Goals. The SPECA participating countries are Afghanistan, Azerbaijan, Kazakhstan, the Kyrgyz Republic, Tajikistan, Turkmenistan, and Uzbekistan. ESCAP and UNECE jointly provide support to the SPECA Programme.