CAREC Institute Participates in the 5th "Belt and Road" Development High-level Forum
9 Sep 2022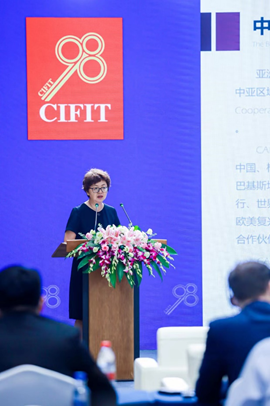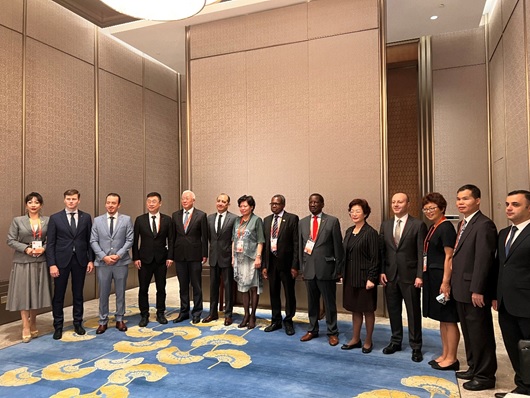 On September 9, Dr. Huang Jingjing, Deputy Director One of the CAREC Institute, delivered a keynote speech at the Fifth "Belt and Road" Development High-level Forum under the 22nd China International Fair for Investment and Trade. The forum was attended by the leaders of Xiamen Municipal Government, the former vice president of the PRC Ministry of Commerce, the former Ambassador Extraordinary and Plenipotentiary of China to Ukraine and Kazakhstan, and Ambassadors from Ecuador, Zimbabwe and Azerbaijan to China, and representatives from research institutes, business associations, and private sector.
Dr. Huang Jingjing briefed the forum participants on the CAREC Program and its key achievements in promoting regional economic integration and cooperation in trade, energy, water resources, transport, finance, human development, agriculture, environment, tourism, and other important issues for shared prosperity of the CAREC region. As of June 2021, the CAREC Program has attracted $41 billion in investment to help the region build an intermodal network, improve energy and trade, facilitate the free movement of people and goods, and lay the foundation for economic corridors' development. The six CAREC economic corridors connect the region from northern China to the Caucasus and from Kazakhstan to Pakistan's warm water ports of Karachi. The economic connectivity accelerates the movement of people and businesses along CAREC corridors, speeding up access and reducing cross-border costs. Through CAREC partnerships, thousands of kilometers of roads and railways have been built, upgraded, or modernized in the region. The CAREC corridors improve access to basic services and employment opportunities, ultimately providing a better quality of life for all in the CAREC region.
Participants were also introduced to the CAREC Institute, an international organization headquartered in Urumqi, Xinjiang, which plays an important role as a knowledge bridge in advancing regional economic integration, seeking to ensure coherence and consistency in the development and implementation of policies, activities and projects for shared regional prosperity. The CAREC Institute supports knowledge sharing, research, policy dialogues, and capacity building activities on various issues of cooperation in the region. Capacity building activities cover such issues as the implementation of the WTO Trade Facilitation Agreement, improving transit services, promoting economic diversification in the CAREC region, improving the quality of key economic indicators, road asset management, road safety engineering, SOE reform, promotion of regional tourism, energy, and food security.
The CAREC Institute trains about 1,500 civil servants annually and expands the training scope using different approaches and learning tools. The CAREC Think Tank Forum enables the exchange of ideas and concepts between the governments as knowledge creators, think tanks as knowledge advocates, universities as knowledge generators and the business sector as innovators to create a targeted framework and transform knowledge into tangible benefits. The Research Fellowship Program of the CAREC Institute provides support to scientists and researchers of the CAREC countries in conducting integrated research and comparative analysis to draw lessons from the local experience and regional and global development, and to promote and deepen regional integration. The CAREC Institute promotes networking and partnerships to share knowledge, improve research projects and academic programs, exchange experts and lecturers, collaborate on public policies, and create economic linkages between businesses, thereby contributing to the sustainable development of the region.
Dr. Huang Jingjing more specifically highlighted the role of e-commerce in CAREC countries as a modern trend that promotes regional economic integration. A joint study by the CAREC Institute and the Asian Development Bank showed that in 2019, less than 10% of the population in Azerbaijan, the Kyrgyz Republic, Mongolia, Pakistan, Turkmenistan, and Uzbekistan shopped online. There is still a long way to go to give full play to the potential of e-commerce in this region. Another recent study by the CAREC Institute identified significant digital gaps in CAREC countries that could cause income inequality, loss of competitiveness leading to polarization within and between countries, and digital hegemony that may threaten further economic growth in the region. Since ensuring universal access to ICT for all citizens is critical, the CAREC Institute proposes to encourage cooperation between existing operators to share infrastructure to cover blind spots and create Internet Exchange Centers to exchange data traffic with each other. These centers can result in low Internet costs hence improved access.
Insufficient digital literacy is another barrier to expanding Internet penetration. Thus, CAREC governments and the private sector need to intensify education and awareness efforts and contribute to the development of online consumer protection regulations that will ultimately improve public understanding of the benefits of online shopping and increase trust in e-commerce.
E-commerce also needs the support of payment and postal services. CAREC countries should continue to upgrade their payment systems, including bank transfers, mobile banking apps, digital wallets, and QR payment codes, to process transactions in real-time. As CAREC online buyers want more parcels to be delivered, postal operators must respond to this demand, improve efficiency, and digitize postal operations. Automated processing of trade documents, such as through a one-stop shop, can reduce processing time and costs. Once such ancillary services become available, the CAREC region will benefit more from e-commerce in economic development.