CAREC Institute Participates in 2023 Asia-Europe Commodity Trade Fair and Tianshan Forum
17 Aug 2023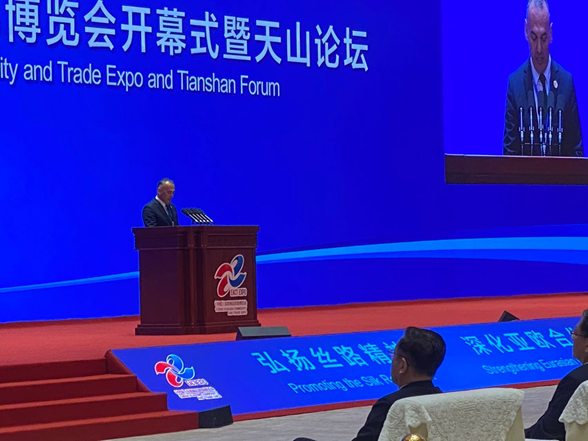 On August 17, the opening ceremony of the 2023 (China) Eurasia Commodity and Trade Expo and Tianshan Forum took place. The events aim at developing economic cooperation on the Eurasian continent.
Director of the CAREC Institute Kabir Jurazoda delivered a speech at the opening ceremony, emphasizing that both events contribute to closer cooperation in the CAREC region. "The countries of Central Asia and the Xinjiang Uyghur Autonomous Region of China have an unprecedented opportunity to become a center of trade and commerce," said Director.
For the same reason, eleven countries have come together to create the Central Asia Regional Economic Cooperation (CAREC) Program under the Asian Development Bank to promote regional economic development through cooperation. The CAREC Program is driven by the overarching vision of "Good Neighbors, Good Partners and Good Prospects" and a broader mission of connecting people, policies and infrastructure projects together for the prosperity of the people. Situated as a land bridge connecting East Asia and Europe, the CAREC countries are at the heart of the Silk Road Economic Belt. Both CAREC and the Belt and Road Initiative share common goals of improving connectivity, promoting unimpeded trade, creating a good investment climate, and strengthening financial cooperation between countries. The five operational clusters of the CAREC Strategy are well aligned with the five-pronged approach of the Belt and Road Initiative.
The CAREC Institute is established to enhance the quality and effectiveness of the CAREC partnership by providing evidence-based research, capacity-building services, dissemination of knowledge products, and networking and partnership with research institutions in the CAREC region. The CAREC Institute as an intergovernmental international organization belongs to eleven countries, and the knowledge support arm of the CAREC Program, is in a unique position to promote regional cooperation.
This year marks the 10th anniversary of the Belt and Road Initiative. And the first China – Central Asia Summit was held this year in Xi'an, bringing new growing opportunities for regional economic cooperation. The CAREC Institute works with CAREC member countries to build effective linkages between CAREC and the Belt and Road Initiative going forward through joint research, policy dialogues, knowledge-sharing webinars, tailed capacity-building activities, and networking events.
2023 (China)Eurasia Commodity and Trade Expo will last until August 21, 2023, and consists of more than 30 forums and events to promote trade and investment, bringing together participants from 40 countries and regions, and seven international organizations.