CAREC Institute Meets the Visiting Delegation
22 May 2023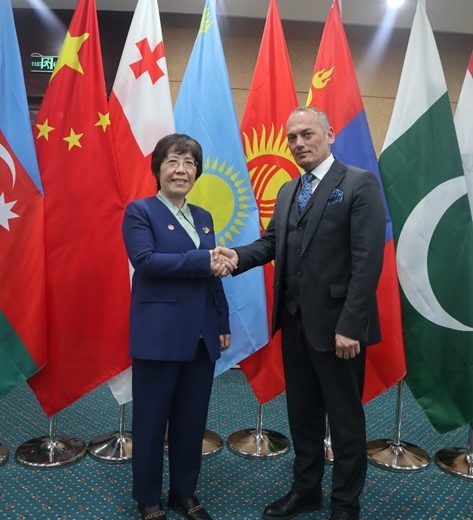 On May 22, a joint delegation from the Center for International Knowledge on Development of the People's Republic of China (CIKD) and the Xinjiang Policy Research Office visited the CAREC Institute to discuss the areas of research cooperation and knowledge sharing.
Mr. Kabir Jurazoda, Director of the CAREC Institute, welcomed the members of the delegation and presented the history of formation, strategic objectives, and key achievements of the Institute. He noted that research is one of the main pillars of the CAREC Institute's mission, through which the Institute attempts to identify the most pressing challenges facing the region and offer policy recommendations to address them. The Institute's research products include research reports and journal articles that provide analysis and interpretation of CAREC regional trends and challenges, and policy and economic briefs that provide research summaries with policy options. To promote research collaboration in the region, the CAREC Institute supports the Visiting Fellowship Program and Research Grants Program. The Institute hosts its annual Think Tank Development Forum to discuss key policy issues facing CAREC member countries and research conferences to provide an opportunity for researchers from the region to discuss their research work and liaise with other researchers. Institute's periodic publications include i) the Quarterly Economic Review with the latest available financial and economic data, ii) the Annual Book, which comprises an array of analytical works with policy recommendations, as well as iii) the e-newsletter which provides monthly updates on the institute's activities and shares the results of recent research. The Institute organizes regular policy dialogues and capacity building trainings using a modern e-learning platform in Chinese, English and Russian.
CIKD Vice President Ms. Zhang Jin presented the mission and activities of the Center. The CIKD is an independent institution affiliated with the Development Research Center of the State Council of the People's Republic of China. The Center's mission is to become a key member of the global knowledge network for development, to research and transfer Chinese development knowledge for global development. Its main functions include: 1) bringing together Chinese and international research resources; 2) conducting research on development theories and practices; 3) organizing the exchange of research findings on international development issues, including the implementation of the UN 2030 Agenda for Sustainable Development. In 2020-2021, the Center conducted several important studies on China's experience in poverty reduction, urbanization, promotion of development zones, implementation of the 2030 Agenda for Sustainable Development, and others. The Center also organizes forums and seminars to share best practices of China's economic development policy with other countries.
Further, the parties exchanged views and ideas on the prospects for cooperation in conducting joint research and sharing knowledge and best practices of the economic development policies of the PRC with other countries in the CAREC region.