CAREC Institute Contributes to Discussions on the Belt and Road Initiative and the China-Pakistan Economic Corridor
12 Oct 2023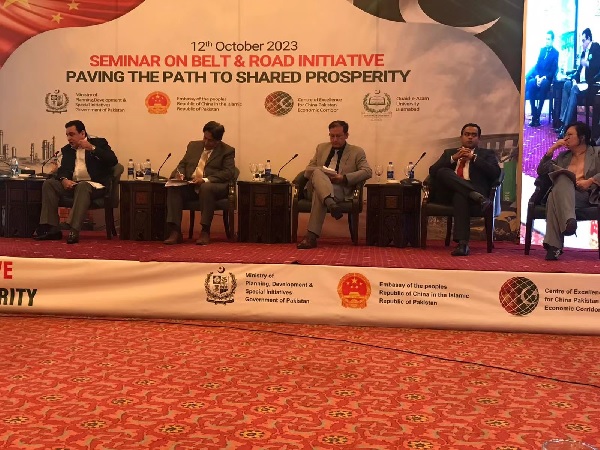 On October 12, Dr. Ghulam Samad, Senior Research Specialist of the CAREC Institute, spoke about regional industrial cooperation at a Belt and Road Initiative seminar in Islamabad, Pakistan. The seminar was jointly organized by the Ministry of Planning, Development and Special Initiatives of Pakistan, the Embassy of the People's Republic of China in Pakistan, the Center of Excellence for China-Pakistan Economic Corridor and Qiad-e-Azam University.
Speaking during the panel session, Dr. Ghulam Samad highlighted the trade potential and unique role of China's Xinjiang Uyghur Autonomous Region in connecting the CAREC region. Boasting great natural resources, the Xinjiang region serves as an economic and transport hub for four important CAREC corridors (1, 2, 3 and 5) connecting China with Europe, the Mediterranean, the Russian Federation, South Asia and the Middle East. More than eighty percent of CAREC trade goods flow through these four CAREC corridors, linking trade and value chains. He said that the Quadrilateral Transit Trade Agreement and the expansion of rail and road networks between Pakistan, China and Central Asia offer enormous potential for regional connectivity, economic integration and prosperity.
He called on CAREC countries to implement trade facilitation measures and develop regional electronic data interchange. In particular, Pakistan can use CAREC regional cooperation mechanisms to facilitate trade by coordinating and simplifying TIR and non-TIR regimes, upgrading the Sost-Khunjerab Cross Border Point using the AI-enabled Integrated Transit Trade Management System, and deepening cooperation between Rashakai Special Economic Zone in Pakistan and Kashi Economic Development Zone in China. The CAREC Program supports policy coordination, cross-border trade, and the integration of regional networks to enhance trade and industrial cooperation. In turn, the CAREC Institute, as the knowledge hub of the CAREC Program, supports the regional economic cooperation through knowledge generation and sharing, capacity building and research partnerships.