CAREC Institute Contributes to Discussion of Pakistan's National SMEs Policy 2021
24 May 2023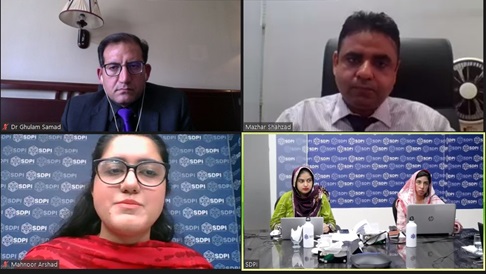 On May 24, Dr. Ghulam Samad, Senior Research Specialist of the CAREC Institute, spoke at the webinar on "National SME Policy 2021 and its implication on international trade" organized by the Sustainable Development Policy Institute (SDPI) of Pakistan.
There are currently over 5 million small and medium enterprises (SMEs) operating in Pakistan which play a critical role in economic growth and development — they contribute 40% to GDP and 25% to Pakistan's total exports — creating additional jobs, promoting human resource development, reducing poverty and income inequality and much more. Given this role of the SMEs, in January 2022, the Government of Pakistan launched the National SMEs Policy 2021, which is based on the adoption of a unified definition of SMEs, reform of the regulatory and tax environment, and institutional restructuring. As a result, 112 reforms have been carried out to simplify the work of the SMEs and the corresponding tax regime, improve access to finance and skills of employees, empower women entrepreneurs, provide access to domestic and foreign markets, and others.
Despite this progress, there still problems exist in Pakistan's SMEs sector, such as high-interest rates for loans making borrowing expensive for startups, issues of blocking of letters of credit causing delays in the import of materials and equipment, outdated technology leading to low productivity, and access to the international market remains a problem due to lack of information, poor infrastructure, inadequate marketing, and logistics. To discuss these issues and find the necessary policy solutions, the Sustainable Development Policy Institute of Pakistan organized the workshop with the participation of national and international economists and policymakers.
During the panel discussion, Dr. Ghulam Samad spoke about how the National SMEs Policy in Pakistan can aim to support the growth and development of SMEs and what specific measures should be included in the policy to improve the competitiveness of Pakistani SMEs in the international market. He noted that Pakistan's authorities should: first, strengthen trade facilitation measures in the context of SMEs; second, promote manufacturing-based SMEs along with other SMEs; third, create and develop an entrepreneurial ecosystem for SMEs; and finally, enhance digitalization by improving digital infrastructure and regulations.