CAREC Institute Contributes to Dialogue on Regional Cooperation in Promoting Digital Economy
16 Nov 2022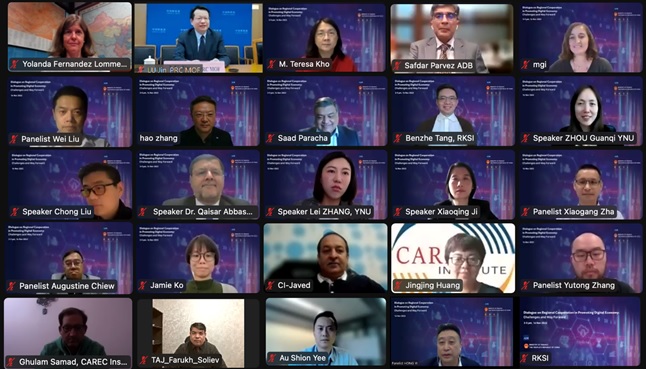 On November 16, Dr. Qaisar Abbas, Chief of the Research Division of the CAREC Institute, spoke at the Dialogue on "Regional Cooperation in Promoting Digital Economy: Challenges and Way Forward". The dialogue was co-hosted by the Ministry of Finance of the People's Republic of China, the Asian Development Bank, and the ADB-PRC Regional Knowledge Sharing Initiative. The purpose of the dialogue is to promote discussions on building a sustainable digital economy in the CAREC region, Greater Mekong Sub-region, and other regions of Asia, where all stakeholders can work together to achieve the long-term goal of more sustainable and inclusive economic growth.
Dr. Qaisar Abbas delivered a keynote presentation on the digital divide and policy reforms for promoting e-commerce in the CAREC region. The CAREC region has not fully benefited from the digital economy transformation, including digital trade or e-commerce. A recent study by the CAREC Institute "Digital CAREC: Analysis of the Regional Digital Gap" finds that the digital infrastructure and internet access are top-performing indicators of digital development in the CAREC region, while the countries in the region face a higher digital divide in digital payments and e-commerce. The People's Republic of China leads the world in online retail and is considered as a role model for the future of e-commerce, while e-commerce in most other CAREC countries is underdeveloped and way below its potential. This digital divide yields income inequality, causing social conflict and loss of competitiveness, and polarizing people within/across countries, leading to digital hegemony and threatening sustainable growth. The development of e-commerce in the CAREC region is highly heterogeneous in terms of hardware, e-commerce infrastructure, and its soft components, including the legal, regulatory, and institutional framework. Outdated regulations, varied digital infrastructure, and fragmented governance are examples of obstacles to realizing the potential of e-commerce in the CAREC region. The lack of digital infrastructure and digital skills limits the introduction of basic digital technologies and the mechanism of virtual transactions. "The development of e-commerce can only be achieved by narrowing the digital divide while implementing inclusive regulations for both firms and regulators," said Dr. Qaisar Abbas.
Other researchers spoke about regional cooperation in promoting the digital economy. Dr. Xiaoqing Ji and Dr. Chong Liu from Shanghai University of Finance and Economics presented their research findings on "Digital Economic Cooperation under Regional Frameworks", and Dr. Lei Zhang and Dr. Guanqi Zhou from Yunnan University spoke about "Building Digital Connectivity in GMS Sub-Region". The presentations were followed by a panel discussion with representatives from academia, international development agencies, and the private sector.
More than 70 people — government officials, experts from multilateral institutions, regional think tanks, and private enterprises — participated in this online dialogue.