CAREC Institute Contributed to UN ESCAP Regional Strategic Discussions
19 Apr 2022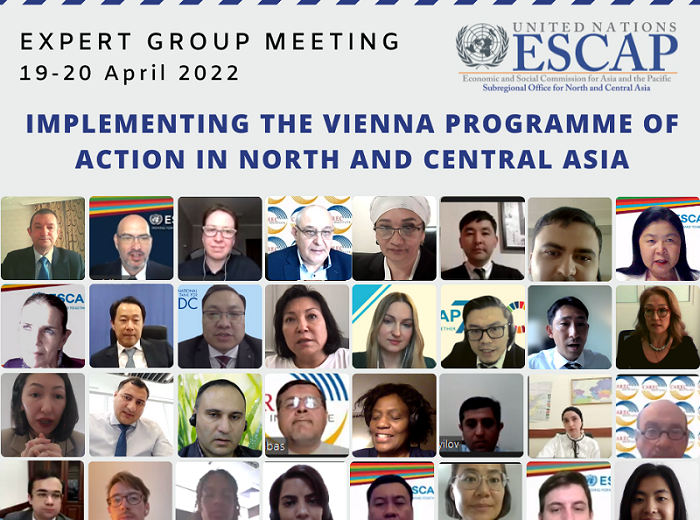 The Deputy Director Two of the CAREC Institute Dr. Iskandar Abdullaev delivered a speech in the UN ESCAP Expert Group Meeting on Implementing the Vienna Programme of Action in North and Central Asia on April 19, 2022. In his speech Dr. Abdullaev noted about CAREC Institute strategic actions which match five priorities of the Vienna Programme of Action (VPoA), and highlighted the joint progress made by CAREC Program member states in implementing VPoA's actions. Dr. Hans Holzhacker, Chief Economist, and Dr. Qaisar Abbas, Chief of Research Division of the CAREC Institute also attended the meeting and shared views and comments on various topics.
Within VPoA's priority on infrastructure development and maintenance, the CAREC Institute and ADB conduct an annual Measurement and Monitoring of CAREC Corridor Performance, which highlights key transport, cross-border infrastructure and policy issues. Using these results, national constituents conduct national advocacy campaigns aimed at improving transportation policies in their countries. The CAREC Institute also contributes to improving road asset management through capacity building workshops and research.
In supporting the energy and ICT infrastructure, the CAREC Institute contributes to policy discussions on sustainable energy transitions, e-commerce, infrastructure assessment framework for e-commerce development, promotion of FinTech solutions for financial inclusion in the CAREC region. The CAREC Institute is a key contributor to advancing the Digital CAREC program. It supports the analysis of regional digital gap, and made an analytical contribution on digital FDI, as well as regulations, policies, and enabling factors of investment in digital economy.
In align with VPoA's priority 'International trade and trade facilitation', the CAREC Institute contributes with analytical reports on intra-CAREC trade, digital and substantial trade facilitation, and the impact of current crises such as the COVID-19 pandemic and the Russia-Ukraine conflict on trade flows in the CAREC region.
CAREC Institute's Regional Integration Index measures progress in regional economic cooperation and integration among the 11 member countries of the ADB-supported CAREC Program. The Regional Integration Index contributes to the VPoA's priority 4 'Regional integration and cooperation' and provides analytical information on the impact of regional integration on sustainable development and human capital.
Finally, the CAREC Institute supports structural economic transformation in CAREC member countries through the preparation of economic policy briefs and supports national advocacy projects led by national independent institutions on various issues related to integrity and equity in education and public health, gender equality in labor force participation, digital economy, and transport infrastructure.
About:
Vienna Programme of Action for Landlocked Developing Countries for the decade 2014-2024 (VPoA) is a holistic development plan centered on addressing the challenges faced by landlocked developing countries through the implementation of specific actions related to six priority areas: (i) fundamental transit policy issues, (ii) infrastructure development and maintenance, (iii) international trade and trade facilitation, (iv) regional integration and cooperation, (v) structural economic transformation, (vi) means of implementation.