CAREC Institute Contributed to Transport Corridor Research Studies
27 Sep 2023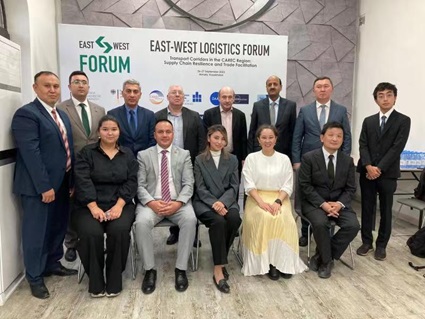 CAREC Institute Chief Economist Dr. Hans Holzhacker and Acting Chief of the Capacity Building Division Mr. Rovshan Mahmudov participated in presentations and discussions during the East-West Logistics Forum on September 26-27, 2023, in Almaty, Kazakhstan. The East-West Logistics Forum was jointly organized by the Kazakh-German University, the Asian Development Bank Institute, the CAREC Institute and several other organizations. The topic of the forum was "Transport Corridors in the CAREC Region: Supply Chain Resilience and Trade Facilitation."
The event aimed to promote policy research and dialogue in the CAREC region. The forum participants discussed the development of transport corridors in the CAREC region, including their importance for supply chain resilience, for the region's trade and economic potential, and challenges and opportunities for upgrading the corridor infrastructure, especially for the Transcaspian (Middle) corridor.
Dr. Hans Holzhacker emphasized the need to develop transport corridors to economic corridors, to use the reduction in trade and transaction costs provided by the transport corridors to develop the economies of the regions located along the corridors. In addition to direct benefits, such as the development of intra-regional supply chains and stronger connectivity that allow businesses to take advantage of economies of scale and scope, economic corridors also have indirect benefits which affect the lives of many people in adjacent areas. Economic corridors can help trigger the industrialization of lagging regions, and create jobs and other social opportunities.
Dr. Hans Holzhacker and Mr. Rovshan Mahmudov also provided feedback to research papers during the workshop session examining the economic impact of transport corridors and infrastructure investments in Central Asia and the Caucasus.
All materials and video recording of the event will be available at the CAREC Institute's e-learning platform.