CAREC Institute Contributed to Discussions on CAREC Program Effectiveness and Deliverables
6 May 2022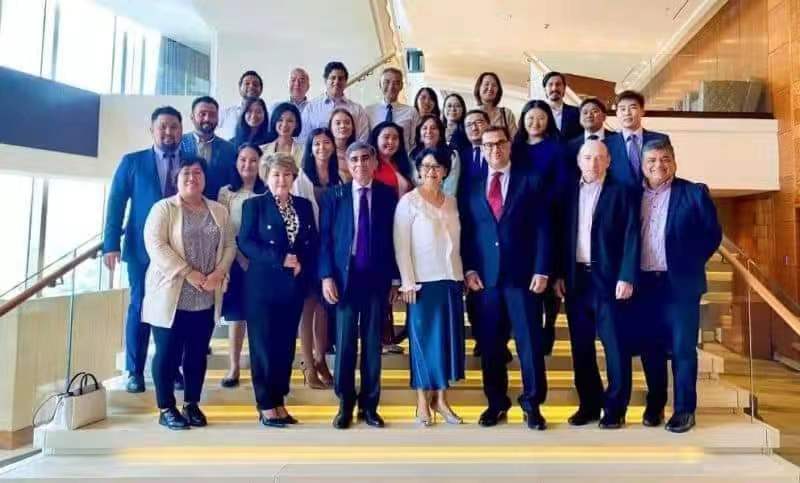 Mr. Syed Shakeel Shah, Director of the CAREC Institute, and Dr. Hans Holzhacker, Chief Economist, attended the Consultations Meeting on CAREC Program Effectiveness and 2022 Deliverables, which was held in Almaty from 4 to 6 May 2022. The consultations focused on reviewing the implementation and monitoring processes of the CAREC Program, strengthening communication and outreach, and discussing key sectoral and cross-cutting issues.
Director Syed Shakeel Shah provided an update on the CAREC Institute's knowledge partnerships between the PRC, other CAREC countries and organizations. The CAREC Institute in a partnership with the Civil Aviation of China conducted research studies on civil aviation development to promote cooperation in the civil aviation sectors among CAREC member countries. Another key example of the collaboration of the CAREC institute with PRC institutions is a study aimed at sharing PRC's knowledge and policy lessons on reforming technical and vocational education and training with CAREC countries. The Institute cooperates closely with academic institutions in China in scientific discussions and research on climate change. Cooperation of the CAREC Institute with other international organizations is also expanding. The CAREC Institute currently works with UNICEF on research and experience sharing in sustainable water supply, sanitation and hygiene; works closely with the Islamic Development Bank on Digital CAREC related research and policy formulation; collaborates with ADBI, UNESCAP and the Boao Forum on various research projects.
Dr. Hans Holzhacker, Chief Economist at the CAREC Institute, spoke about the forthcoming research paper "Revitalizing Regional Cooperation for Green, Sustainable, and Inclusive Recovery." The paper includes policy discussions on CAREC trade facilitation and sustainable connectivity, regional cooperation for sustainable energy and digitalization, climate adaptation and food security, and the impact of the COVID-19 pandemic on micro, small and medium enterprises. The document provides important policy recommendations to regional and national stakeholders.
Director Syed Shakeel Shah also contributed to the discussion of the CAREC communications strategy, highlighting the key achievements of the CAREC Institute not only as a "knowledge-based" organization, but also as a "communication-based" organization. The CAREC Institute's communication channels include a monthly newsletter with over three thousand subscribers, knowledge product adaptations, policy briefs, economic briefs, CAREC Corridor Performance Measurement and Monitoring briefs, an e-learning platform, webinars, policy dialogues, and others. The CAREC Institute uses digital social media tools such as LinkedIn, Weibo, WeChat, and traditional media to share knowledge. The materials of the CAREC Institute are now accessible not only in English, but also in Chinese and Russian languages. Director Syed Shakeel Shah noted that with institutional growth, the CAREC Institute's information flows are becoming diverse and complex, and the Institute is now considering developing a communication strategy for consistent information activities within the Institute and with CAREC Program and other organizations of the CAREC region and beyond.