CAREC Institute Chief Economist will contribute to the Webinar "Building Resilience and Fostering Sustainable Growth in the Caucasus and Central Asia"
1 Nov 2023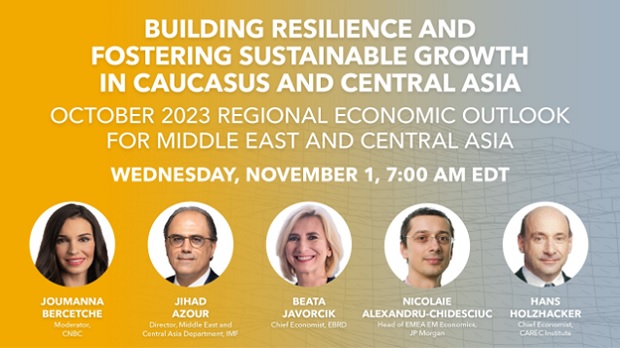 CAREC Institute Chief Economist Dr. Hans Holzhacker will participate as a panelist in the Webinar "Building Resilience and Fostering Sustainable Growth in the Caucasus and Central Asia" organized by International Monetary Fund on November 1, 07.00 am (EDT).
A distinguished panel of speakers will explore pivotal issues for the development of Central Asia and the Caucasus as reflected in the IMF's October 2023 Regional Economic Outlook for the Middle East and Central Asia in a discussion moderated by Joumanna Bercetche, CNBC.
The Webinar will be conducted in English with simultaneous interpretation available in Russian and streamed live on IMF.org/live and YouTube, and in Russian on IMF.org/CCA. Please register here to receive a Zoom link to connect.