Virtual Workshop on Early Warning and Regulation of International Financial Risks
20 Mar 2023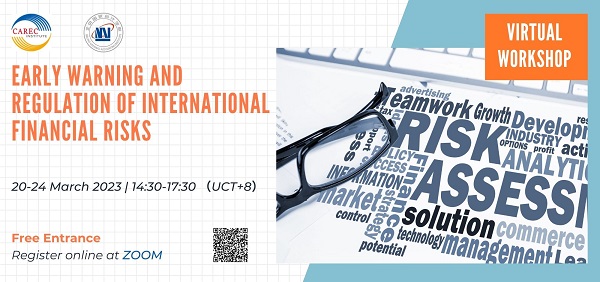 The CAREC Institute, in partnership with the Beijing National Accounting Institute, will host a five-day virtual workshop on Early Warning and Regulation of International Financial Risks from 14:30 to 17:30 Beijing time, March 20-24, 2023.
The workshop aims to share knowledge, approaches and insights on financial risk supervision, debt sustainability, risks, sustainability and inclusiveness in the CAREC region, and the best practices of market risk supervision in China. The workshop will gather the senior specialists from Chinese financial risk regulatory bodies, scholars of well-known universities, and experts from the CAREC Institute.
The workshop is intended for officials of financial risk regulatory bodies and line ministries of CAREC member countries, as well as representatives of research institutes and think tanks. Participants will be invited to share their views and experiences on financial risk warning and regulations during the workshop discussion.
Translations into English, Russian and Chinese will be provided throughout the workshop. Please register here.
Event Materials
Key Documents