Regional Policy Dialogue on Unleashing the Potential of MSMEs in the CAREC Region
10 May 2023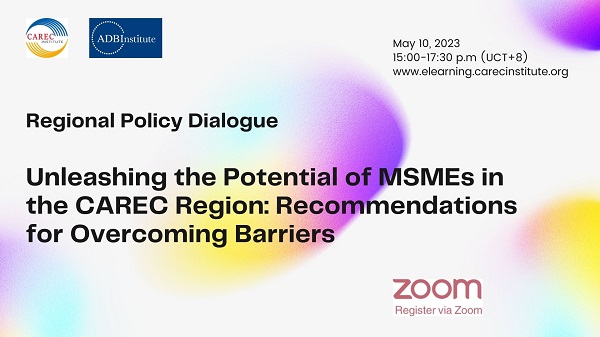 The CAREC Institute and the Asian Development Bank Institute will hold a joint policy dialogue on "Unleashing the Potential of MSMEs in the CAREC Region: Recommendations for Overcoming Barriers" on May 10, 2023.
Micro, small, and medium-sized enterprises (MSMEs) play a crucial role in driving economic development, providing employment opportunities and contributing to poverty reduction. However, MSMEs are particularly vulnerable to external shocks and crises, such as the COVID-19 pandemic, global trade tensions and geopolitical instability. The unprecedented uncertainty created by these factors has intensified the challenges faced by MSMEs, including reduced access to finance, supply chain disruptions, and changing consumer behavior. As a result, policymakers in many regions have prioritized MSME development and financial inclusion policies as key components of their national growth strategies.
In light of the critical challenges facing MSMEs, experts and country representatives from the CAREC region will discuss how to improve MSMEs' access to finance and unleash their potential. Participants will learn about supply- and demand-side challenges and opportunities facing MSMEs in the CAREC region, as well as the best policy practices to support MSMEs' development and financial inclusion. By bringing together policymakers, experts, and stakeholders from the region, the policy dialogue will help to promote innovative solutions to the challenges facing MSMEs.
Register here: https://carecinstitute-org.zoom.us/meeting/register/tZYuf-qqrz4sE9xLRCjY-kgeGrdTHLchmvBr
The policy dialogue will be recorded and uploaded with materials to the CAREC Institute E-learning platform, which is available to all users through elearning.carecinstitute.org
Event Materials
Key Documents