Joint Workshop On Transport Corridors in CAREC Region: Supply Chain Resilience and Trade Facilitation
27 Sep 2023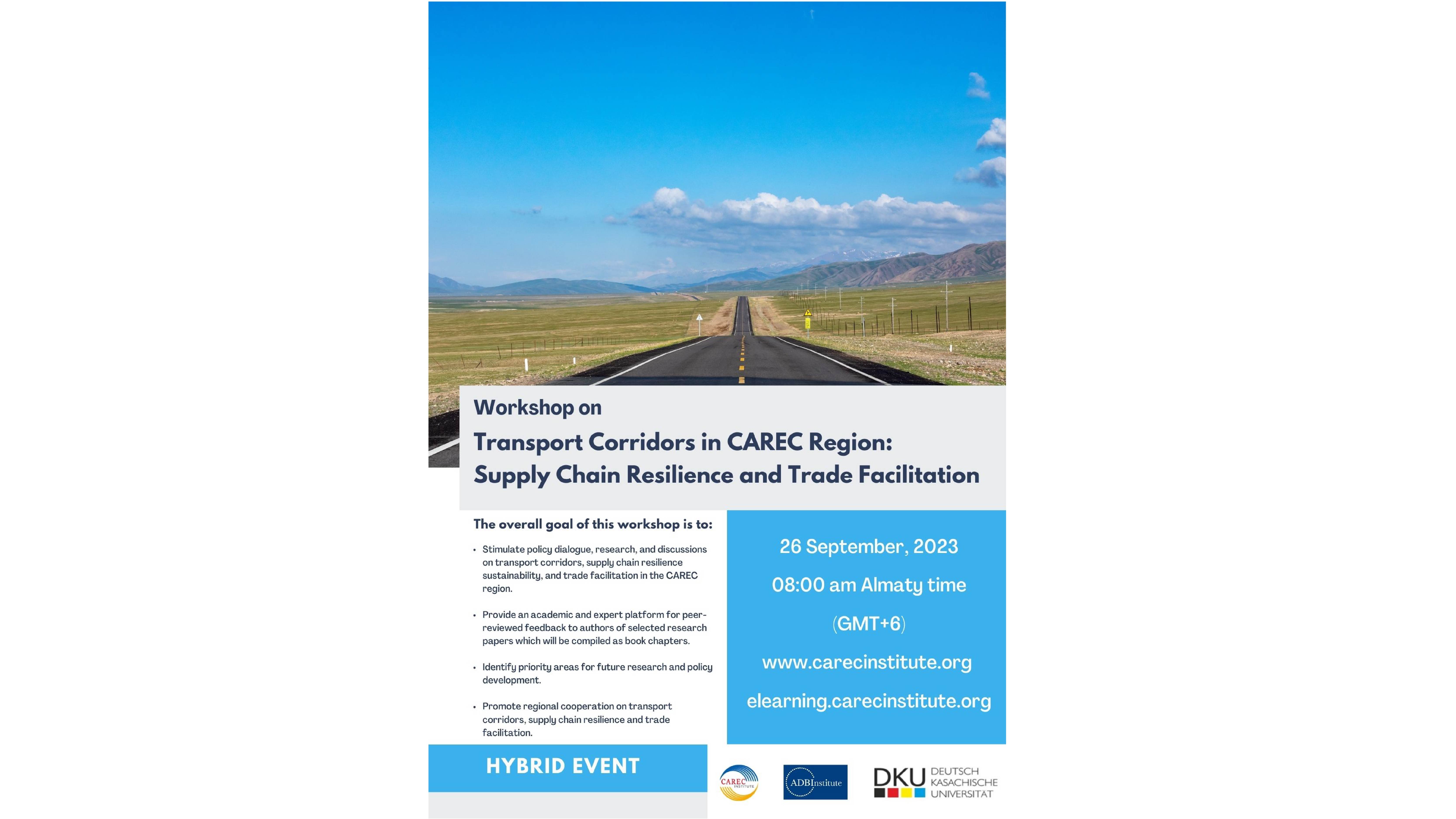 The CAREC region has been strongly affected by different economic shocks in recent years. Transport corridors, including pipelines, railways, roads, and shipping that cross Central Asia and the Caspian Sea to link Asia and Europe, play a significant role in the economic development of the CAREC region. Recent developments in the region call for new policy recommendations to ensure the continued development and success of these corridors.
Supply chain resilience and trade facilitation have important policy implications for the CAREC region and highlight the need for alternative approaches to support the region's socioeconomic development goals. This implies that stakeholders need to prioritize the development of transport corridors and trade facilitation to achieve supply chain resilience, promote regional and global trade, and improve socioeconomic spillover effects.
Realizing the importance of these transport corridors in the region, the CAREC Institute, in collaboration with the Asian Development Bank Institute (ADBI) and Kazakh-German University (Kazakhstan) plans to organize a workshop among leading international experts and senior officials on 26-27 September 2023 in Almaty, Kazakhstan, along with the East-West Logistics Forum.
The overall goal of this workshop is to bring together authors of the selected papers, and CAREC member country experts and other stakeholders to:
• Stimulate policy dialogue, research, and discussions on transport corridors, supply chain resilience, and trade facilitation in the CAREC region.
• Provide an academic and expert platform for peer-reviewed feedback to authors of selected research papers which will be compiled as book chapters.
• Identify priority areas for future research and policy development.
• Promote regional cooperation on transport corridors, supply chain resilience and trade facilitation.
Link to the registration form