CAREC Digital Trade Forum 2022
8 Nov 2022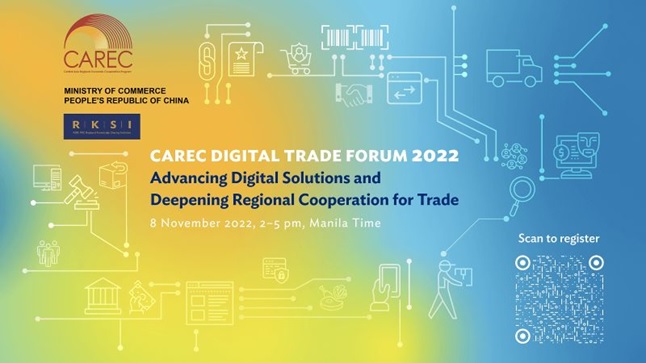 The CAREC Institute will present the preliminary findings of its new research on "Digital FDI Ecosystem in CAREC Region (Phase II)" at the CAREC Digital Trade Forum 2022. During Part II "Between public-private entities and research institutions" of Session 3 "Digital Cooperation and Innovative Arrangements in Digital Trade", Dr. Asif Razzaq, Lead Project Consultant who will soon join the CAREC Institute as the Senior Research Specialist, will discuss the most important policies, measures, and regulations that CAREC governments can take to attract investments in the digital economy and improve the institutional and organizational aspects of financing to reduce the digital gap in the CAREC region.
The forum is a knowledge platform which aims to promote the use of emerging digital solutions and strengthen regional cooperation to promote supply chain connectivity and trade expansion as part of the broader CAREC Integrated Trade Agenda 2030. The forum will bring together policy makers, regulators, trade promotion agencies, private sector representatives, development partners, think tanks and other key stakeholders to share effective policies, good practices and innovative ideas to achieve CAREC countries' digital trade potential.
The forum with the theme of "Advancing Digital Solutions and Deepening Regional Cooperation for Trade" is organized by the Asian Development Bank (ADB) in cooperation with the Ministry of Commerce of the People's Republic of China and the ADB-PRC Regional Knowledge Exchange Initiative and will be held on November 8, 2022, from 14:00-17:00 Manila/Beijing time (UTC+8).
To register at the forum, please, follow this link:
https://adb-org.zoom.us/webinar/register/WN_b1e5aes8TpmPhtNm6cFFDA
Key documents:
Agenda (English, Russian)