2nd CAREC Institute Climate Dialogue
2 Aug 2022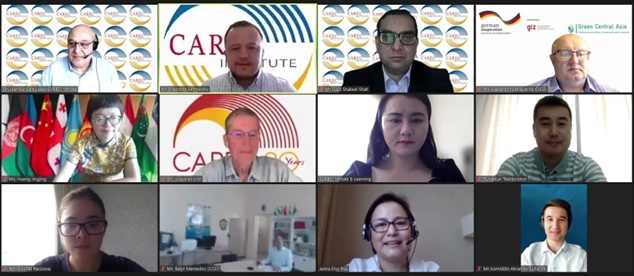 The CAREC Institute hosted its Second Climate Change Dialogue on 2 August 2022 with representatives of regional organizations in the CAREC region to discuss the CAREC Climate Scoping Study, commissioned by ADB CAREC Program.
In his opening speech, Mr. Syed Shakeel Shah, Director of the CAREC Institute, said that with emerging from the COVID-19 pandemic, the world is facing a global social and environmental emergency. Global temperatures rise above target, causing catastrophic climate change-related problems. Countries in the CAREC region, as one of the world's most vulnerable regions, experience greater seasonal and geographic fluctuations in temperature and precipitation, which affect household well-being. The countries need to rethink their economic growth models and understand the problems associated with climate change to draw actions to respond to environmental and social impacts. In this regard, the CAREC Institute holds a series of dialogues on climate change. If the First Climate Change Dialogue discussed how CAREC countries are developing and trying to implement national mitigation and adaptation strategies, the second one focused on regional priorities and actions in collaboration with regional organizations.
During the first session of the dialogue, the ADB consultant team, led by Dr. Johannes Linn, presented the scope of the study, which is to develop a cross-cutting, systematic, and strategic approach by the CAREC Program to the regional climate agenda. The study will inform CAREC member countries, the CAREC Secretariat, regional organizations, and development partners about climate change issues, as well as national and regional policies and instruments related to climate change, explore the role and mechanisms of regional cooperation on climate issues in the region, and identify potential entry points for the CAREC Program and the CAREC Institute in addressing climate change challenges.
In the second section, the representatives of the regional organizations in the CAREC region highlighted their organizations' activities, while underlying major climate issues and policy challenges, and pressing climate change issues to be addressed by the CAREC Program and the CAREC Institute. Representatives of regional organizations identified key areas for regional cooperation, such as promoting climate education, developing the capacity of the public sector, civil society, the private sector, and households to combat climate change, organizing regular policy dialogues, accessing financial resources for joint actions, collecting and processing data, and sharing best practices on policy development, conducting research to fill information gaps in climate change in Central Asia. Experts named water, energy, agriculture, disaster preparedness, security and health, digitalization, vulnerable communities, and gender as key priority areas.
Dr. Iskandar Abdullaev, Deputy Director Two of the CAREC Institute, concluded the Second Climate Change Dialogue, appreciating the participants' feedback on the CAREC Climate Scoping Study and proposals for regional cooperation on climate change issues, and informed that the CAREC Institute would further continue dialogues dedicated to addressing climate change challenges in the CAREC region, expressing hope for further interactions on this subject matter.