19th Ministerial Conference on CAREC
7 Dec 2020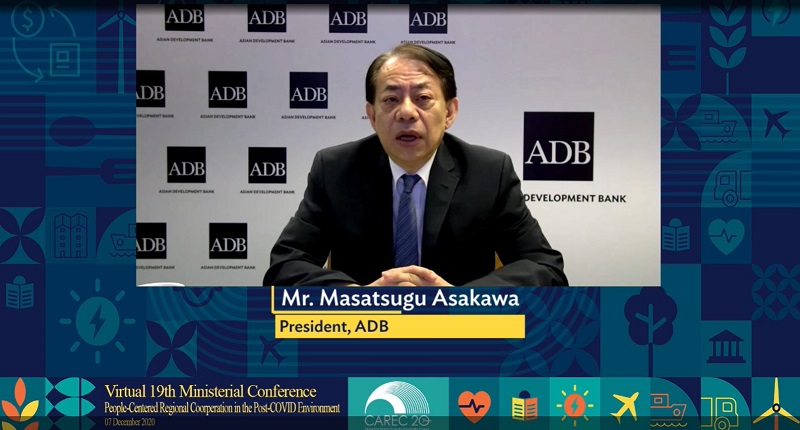 The 19th CAREC Ministerial convened in a virtual mode on 7 December 2020 under the chairmanship of Minister of Finance Abdul Hadi Arghandiwal of Afghanistan, with a special message from H. E. President of Afghanistan Ashraf Ghani.
This year, Ministerial discussed and approved CAREC tourism and gender strategies, CAREC results framework, and a joint ministerial statement.
"From a modest beginning in the 90s, CAREC has become a catalyst, convener, facilitator, investor, and a partner," President Ghani said, "we've reclaimed our historical place in the region and now look in all directions for cooperation… the more we increase interaction, the more we move forward… Afghanistan is becoming conceptualized not only as a land bridge but as a roundabout where people, goods, civilizations, and ideas meet and move freely," he continued.
H. E. President Ghani thanked each CAREC member for active cooperation in railway, CASA 1000, Lapis Lazuli and other important projects.
Development partners – ADB, IMF, World Bank, AIIB – provided highlights of their work to help member countries overcome the pandemic, focus on people-centered economic recovery, and adapt to new evolving trends.
Member country representatives expressed their support for proposed strategies and the results framework. Digitalization was of a particular focus. Participants proposed the idea of a digital hub and digital corridors to scale up development impacts and improve reach. Ms. Zou Jiayi, Vice Minister of Finance of the People's Republic of China (PRC) noted importance of market integration and connectivity; strategic alliance with all development initiatives, including the Belt and Road Initiative; significance of the results framework in monitoring development work; and the role of CAREC as a catalyst.
CAREC members and development partners also noted the role of the CAREC Institute in interdisciplinary analysis, identification of gaps and sector complementarities, presenting roadmaps and actionable policy recommendations to ensure coherence in design and implementation of policies, programs, and projects to promote regional economic cooperation and integration. More about the event here.