Embracing Artificial Intelligence (AI) Growth in the Tourism Industry
May 2021, Mr. Sanjay Saxena, Managing Director of Total Synergy Consulting (TSCPL)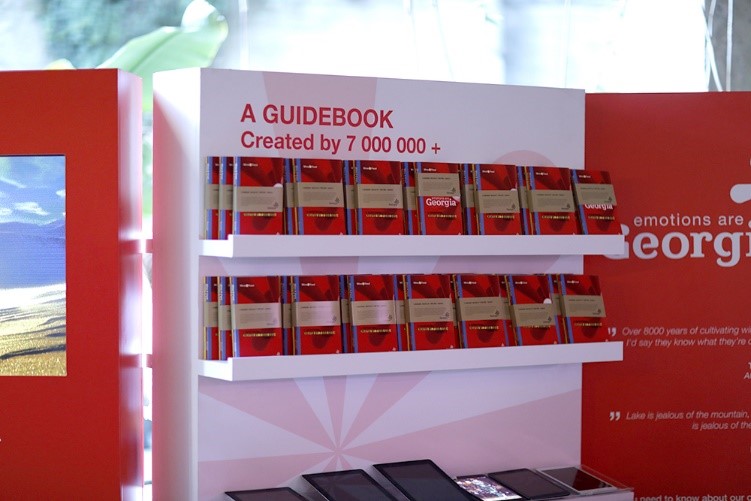 The blog is one of the outcomes of CI's research project "Covid 19 and CAREC Tourism Sector: Harnessing the Role of Technology in Promoting Safe Tourism Destinations". It was written by Mr. Sanjay Saxena Managing Director of Total Synergy Consulting (TSCPL), under the guidance of Dr. Qaisar Abbas Chief of Research Division CAREC Institute.
The travel and tourism industry is one of the most important service industries worldwide. In 2019, the travel and tourism industry accounted for US$8.9 trillion contribution to the world's GDP. Tourism sector's symbiotic interaction with technology has been transforming the former industry, which has been trying to constantly adopt and benefit from new technological advancements.
A Google travel study shows that 74% of travelers plan their trips online and more than 45% of users use smartphones to plan their vacations. Millennials play a significant role in this paradigm shift. The combined interest of travel and new technology has made the use of social media and mobile apps an essential part of planning any trip – whether business or leisure. Therefore, the industry has followed suit by adapting its business model and product offering to attract the coveted target.
The stupendous capabilities of Artificial Intelligence (AI) to perform complex tasks, to learn and get better over time and its virtually unlimited potential have all contributed to making this technology extremely important for the travel sector. Deployment of AI saves businesses time and money, while potentially eliminating errors and executing tasks quickly. Many hotels and resorts rely on AI to deliver prompt customer service, offer new products and increased flexibility to the tourists. AI based technology solutions is increasingly being used to offer more customized services and improve personalization of trips, tailored recommendations and guarantees instant response time. For instance, the same Google Travel Study showed that 85% of leisure travelers decide on activities only after having arrived at the destination – thereby increasing the need for tourism sector service providers to offer last minute, on the spur of the moment, customized tourism products.
Planning and booking stage
According to Booking.com, nearly one third of travelers would be comfortable in letting a computer plan their next trip based on information from their past travel history. With the use of AI, travel brands are now able to create tailored recommendations based around a host of unique customer preferences and past track record.
Planning and booking usually takes place via a Global Distribution System, a network that allows travel agents to centrally monitor bookings for transport, airlines, hotels, restaurants and other parallel industries. With AI automating and customizing the process, travel agents can concentrate on more important aspects, such as enhancing a tourist's experience and making it more immersive.
AI as an assistant – Concierge Services and Smart Speaker
AI powered automated smart speakers, which mimic human interaction while combining a user-friendly interface with enormous data crunching techniques, make them a very compelling product for the tourism sector. Smart speakers are a combination of AI, speech recognition sensors, and speakers to function. For instance, Alexa by Amazon Go, or Siri by Apple lets the user find any information, listen to any music, or perform complex functions such as automatic calling / messaging or setting an alarm, all by uttering a few phrases in front of the smart speaker. When used in a tourism establishment, such as a hotel, these greatly reduce the work load on manual concierge (saving money), provide information to the guests more promptly (saving time) and providing much more detailed guidance and richer content to the guests.
Another emerging trend for technology that is being used AI for concierge services. Connie, the AI robot is one example that is used by the Hilton. It helps visitors to figure out places to visit, eat and how to find anything within the hotel's premises. The robot uses speech recognition and AI to provide visitors with information and each human interaction also helps to teach the robot enabling to improve the quality for future communications.
Sentiment Analysis and Brand Management
Harnessing the power of technology, Georgia National Tourism Association (GNTA) used a complex AI tool which detected, analyzed, and sorted the most genuine human emotions through social media of more than 700k travelers (who shared their impressions about Georgia), over a span of 6 months . These were then used to create the most emotional and accurate guidebook of the country. A major promotional campaign – 'Emotions are Georgia', was launched in July 2018 by GNTA to attract new tourists from across the world. This shows that AI has the ability to easily sort through huge amounts of data accurately and quickly and also aid travel companies to monitor customer reviews or comments on social media platforms. This allows the service providers to get essential feedback on their service and make necessary adjustments and changes accordingly.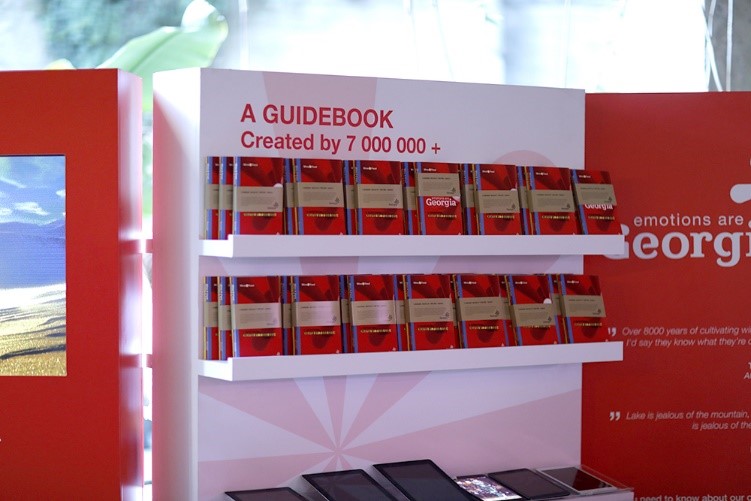 Using Artificial intelligence in travel, hotels/airlines can also analyze customer requirements and help helps travel agencies to increase brand awareness, sales, and revenues of the businesses.
AI enabled Robots
One of the emerging trends for AI functions within the tourism industry is the emergence of face-to-face customer service interactions with artificially intelligent robots. In late Oct 2018, the AI humanoid 'Sophia' made an unexpected stop in Azerbaijan during her worldwide tour and was received by the President of Azerbaijan. It was the first time an AI enabled robot was granted a visa.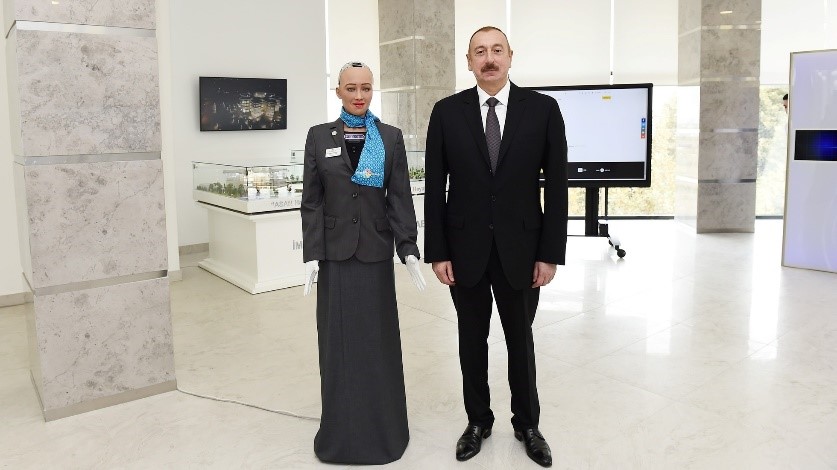 Kazakhstan has been recently exploring the AI technology space. Various industries have already adopted AI or are in process of adopting the technology. For instance, Sberbank is the leader in using AI in the banking sector. It already provides loans for small businesses, relying on AI calculations. Similarly, the country uses AI enabled cameras to monitor movement of vehicles within the speed limit. Given the presence and existing use of this technology, the adoption and the transition of such technologies into the tourism industry is not only a matter of time and will lead to cost reduction and efficiency.
Increasing Overall Efficiency
Other than the specific functions that AI caters to, it also helps in increasing the overall efficiency of the tourism industry. AI, by analyzing raw data, can help the service providers to keep up with market trends and set competitive prices.
For instance, the Alibaba Group has launched a hotel in Hangzhou, China that is completely run by AI enabled robots. The hotel was developed by the company's online travel platform, Fliggy, in tandem with Alibaba's AI Labs and Alibaba Cloud technology with the goal "to leverage cutting-edge tech to help transform the hospitality industry, one that keeps the sector current with the digital era we're living in.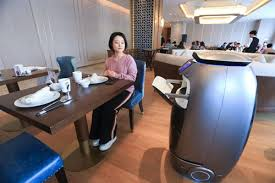 Although the Covid-19 pandemic halted the functioning of the global tourism industry, yet it has paved a way for enhanced digitization, creation of online marketplace and the expansion of useful technologies such as AI. Artificial Intelligence not only aids in sustaining the industry in times of crisis but enhances the functioning in the long run. The future of the travel and tourism industry is possibly incomplete, unimaginable, and inefficient without the use of AI!