Contact-Less Journeys – Myth or Reality?
May 2021, Mr. Sanjay Saxena, Managing Director of Total Synergy Consulting (TSCPL)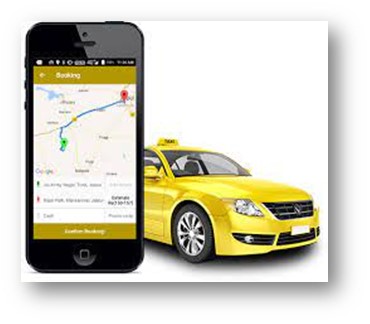 The blog is one of the outcomes of CI's research project "Covid 19 and CAREC Tourism Sector: Harnessing the Role of Technology in Promoting Safe Tourism Destinations". It was written by Mr. Sanjay Saxena Managing Director of Total Synergy Consulting (TSCPL), under the guidance of Dr. Qaisar Abbas Chief of Research Division CAREC Institute.
The downside of the COVID-19 pandemic and its impact on the tourism industry is much talked and discussed about. Yet, on a more positive side, is the sense of urgency it has created for the introduction of innovative technologies in the tourism sector. The pandemic, although halted global tourism operations worldwide, could pave the way for tourism players to rethink their operations and implement new technological solutions to solve some long-standing problems. The face of global travel and tourism may change and for the better. The "new normal" is predicated on robust safety, hygiene and security measures backed by seamless technology. Although, the true essence of tourism still revolves around meaningful human interactions, given the restrictions posed by COVID-19 pandemic, the introduction of latest technologies makes the seemingly paradoxical situation possible – facilitate contactless human interactions.
COVID-19 virus spreads either through human-to-human contact or contact with virus contaminated surfaces, so avoiding contact and taking necessary precautions makes a tourist's journey full of anxiety. However, appropriate application technology at every stage of travel, can make contactless journeys less stressful and safer. Investments in contactless technologies will significantly reduce potential risks associated with physical touchpoints, and therefore help in minimizing the spread of COVID-19 and other infections.
From the very initial stage of trip planning and booking stage to the last day of travel, the entire journey can now be made, with considerable reduced touchpoints. According to a 2017 Google Travel Study, 1 in 3 international travelers are interested in using digital assistants to research or book travel. Even before the pandemic, while a significant number of tourists had already switched over to making online bookings, tourists can now get all the required information, make all travel related bookings through Artificial Intelligence (AI) enabled mobile apps, which are able to offer tourist specific customized itineraries and travel options, based on the tourist's past travel preferences and travel history. Unlike earlier times when the tourist had to explain his / her preferences, requirements and expectations in detail to a travel agent, before each trip, AI enabled travel apps learn this automatically based upon previous transactions. Each time the tourist uses the app, it gets better about learning his/her preferences, given the inbuilt AI. This not only results in considerable time savings and less headaches for the tourist, but significant substitution of a human time with a software app, means significant cost savings for the travel agent.
Let's look at how, through the use of technology, travel journeys can now be made virtually contactless. A key component of any trip is time spent during transportation. Time spent at airports or train stations and inside flights, trains, taxis or buses represent a high-risk possibility of infection because of unnecessary touchpoints between passengers, service providers, and other co-passengers. Biometrics, Blockchain, Infrared, GPS technologies and QR Code technologies can greatly assist in enabling a no contact passage throughout the journey.
Temperature scanning has been one of the most crucial steps in preventing the spread of Covid19 and ensuring other precautions are in place. At various entry and exit points, across airports, train station, hotels, and restaurants, a tourist's temperature is scanned to observe Covid19 related measures. Such a scan can help in identifying and separating a potentially infected tourist from the rest. Such a screening can be made contactless with the help of thermal body temperature scanners that employs a combination of infrared technology, non-refrigerated core and low signal-noise image processing technology. For instance, "Wusool", a company focused on digital solutions and payments has brought the contactless body temperature fast screening solutions to Pakistan. Such a tool could be employed at the various major airports across Pakistan, which prove to be the entry exit points for 6.8 million tourists.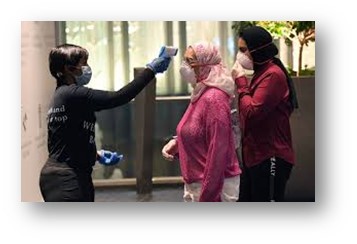 Booking a taxi has never been easier than now. Aggregators like Uber and Ola, via technology, have enabled getting a taxi anywhere just from one's smartphone. These applications employ a combination of Big Data, GPS, and other technologies to operate. A passenger's ride can be made fully contactless and hygienic by keeping necessary safety measures in place. The pick-up and destination of the trip is entered through the app, thus avoiding the one to one interaction between the passenger and the driver. Payments at the end of the trip, which were earlier made by cash, can now be facilitated via E payment methods such as QR Code, NFC code or other e-payment methods. Thereby reducing the need for physical exchange of currency.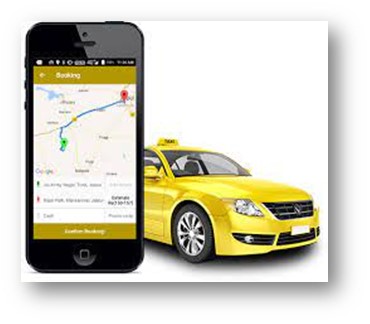 At airports, train stations or bus stops, a QR Code enabled scanned ticket can be shared with the respective authorities instead of printing a physical ticket, this will reduce the potential point of contact for the passenger. Check in can be automated by Self check-in kiosks that employ a combination of Artificial Intelligence and QR Code technology to identify the particular passenger and allow the check in. For example, Beijing Capital International Airport has partnered with Swiss tech company SITA to automate entire passenger journey using biometric technologies.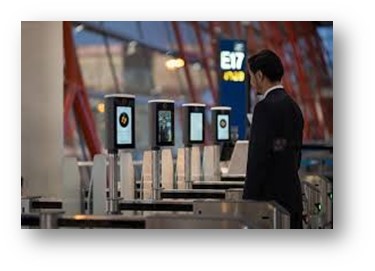 From the airport check-in and bag drop to security clearance and final boarding, passengers can just walk through the designated lanes equipped with facial recognition systems.
Following the check in, the baggage drop too has been made contact less. A fully integrated, single person touch-point system backed by biometric technology, enables passengers to autonomously check-in and securely drop off their baggage. Through blockchain technology, the movement of the baggage can be traced by the passenger. Hence no one, but the passenger will touch the baggage, hence ensuring safety and hygiene standards.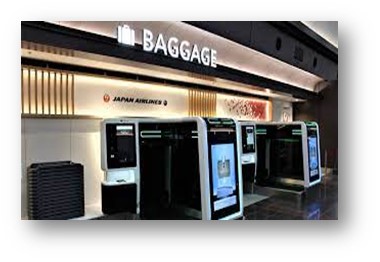 Elevators are commonly used across all facilities such as airports, train stations, and at hotels and restaurants. Elevators can act as a central source for the spread of the COVID-19 virus for various reasons. Buttons to select floors are crucial touchpoints, as they are commonly touched by all the passengers. Elevators can now be installed with touchless elevator panels, with sensors installed, that can be operated via hand gestures without physically pressing anything. Abu Dhabi International Airport has partnered with UAE tech startup Meta Touch to install touchless elevator panel technology.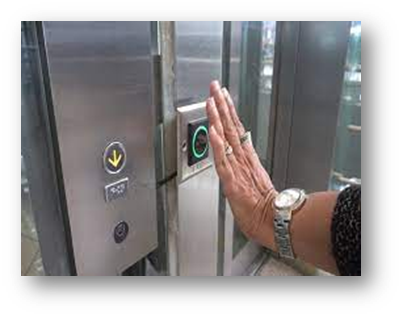 At hotels, many routine tasks such check-in, showing the guests to the room, cleaning rooms or deliver room service, can now be easily automated through technologies such as Artificial Intelligence and Robotics. Artificial Intelligence can help in automated check in processes via self-check-in kiosks. Robots can be employed to automate the disinfection and cleaning process or to deliver baggage to the guest's room.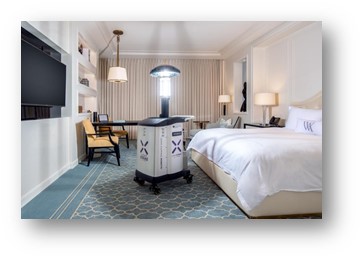 At restaurants and cafes, QR Code technology can be employed to replace paper menus to minimize the common touch points. With QR code technology, each guest can scan the QR Code and receive a personal food and beverage menu on their smartphones and can place the order via the same procedure. Payments can also be made via the same technologies.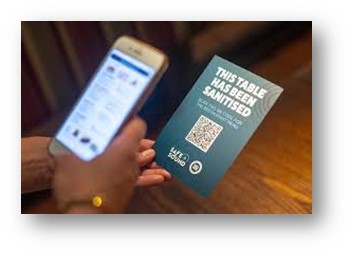 Robots can be used in place of human waiters to serve food at restaurants. This will ensure that all safety and hygiene standards are maintained while also ensuring the quality of service.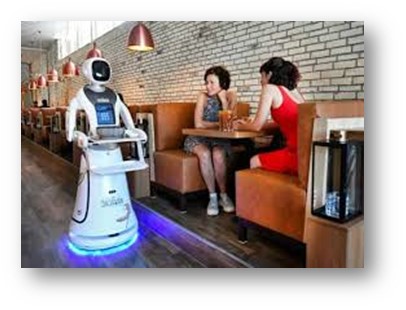 Another source of unavoidable touch points through the journey are while making payments, cash or cards. Notes change hands often and so may a credit or debit card. Online contactless payments play an important role in ensuring contactless, secure, and safe payments. Disruptive technologies that allow contactless digital payments could help to regain tourists' trust.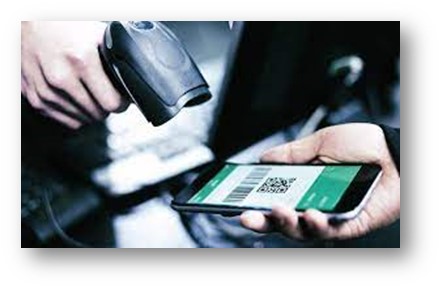 To conclude, it would suffice to say that while it is impossible to have contactless journeys, and even if this was theoretically possible, it would neither be desirable nor demanded by any tourist, technological solutions that reduce un-wanted human touchpoints and enable tourists' greater control over their travel experience, while offering the potential to reduce costs, offer a win-win solution for the tourism sector.